Cloud Expo Asia, Singapore is Asia's award-winning and best-attended technology event. Solace is sponsoring the 8th edition of the conference and will be joining hundreds of the world's leading technology providers, innovators, and industry experts. Get ahead of the competition and ensure your business is harnessing the full potential of the cloud.
Find Solace at booth J23 and be sure to attend our speaking sessions, outlined below:
Successful Digital Transformation with a Hybrid Integration Platform
Next-Gen Cloud Strategy Theatre
Wed, Oct 12th from 11:20am-11:40am
In this session, Solace's Steve Chan and Boomi's Dang Nguyen will share the key capabilities and advantages of a hybrid integration platform (HIP) that marries integration platform as a service (iPaaS) with event-driven architecture (EDA). Learn the architectural and operational aspects of building and running an HIP, and how it can help you achieve your digital transformation goals.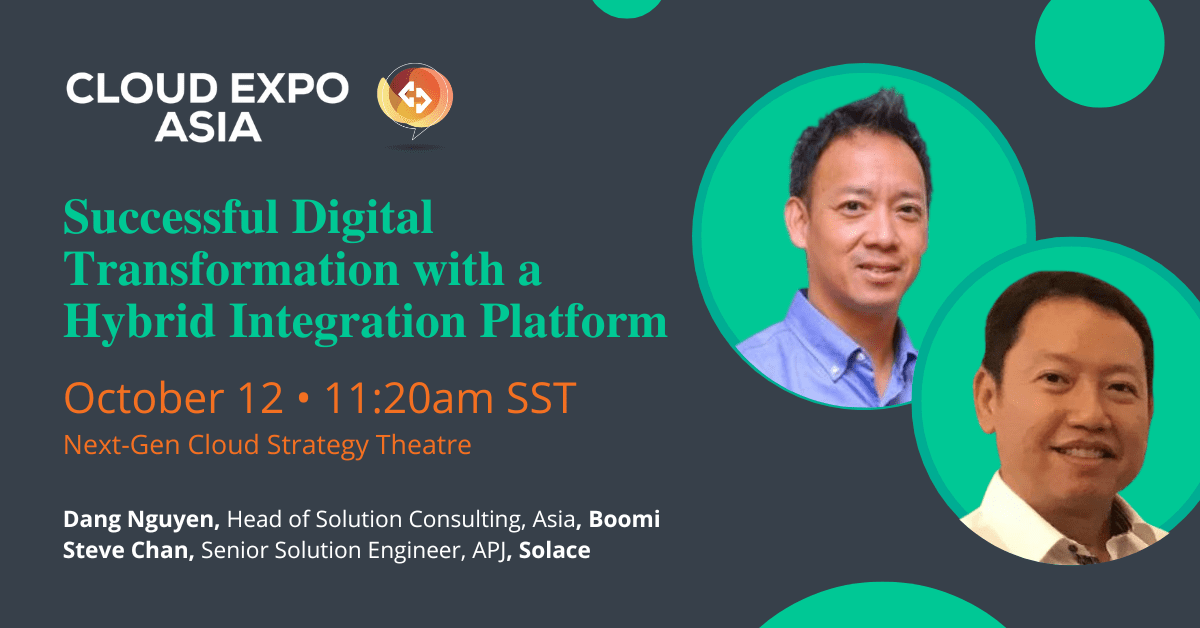 Living the Cloud-Agnostic Dream with Event Driven Architecture
DevOps Live! Workshop Theatre
Wed, Oct 12th from 3:15pm-3:55pm
Many organizations are leaning towards cloud-based solutions to keep up with the high volume of data movement, to combat siloed application interactions and deployments, and to achieve the desired system scalability. However, a multi-cloud deployment of event-driven architectural systems presents a number of common issues for many businesses. In this talk, Solace Developer Advocate Aaron will give a high-level overview of event-driven architecture, review some real-world use cases, and delve into the importance of taking a cloud-agnostic approach to EDA.