It's 2022 and by now you're a pro at the whole "virtual event" thing — love it or hate it, they have become part of life over the last two years for many of us. Thankfully, EDA Summit isn't just your run-of-the-mill virtual conference, it's an "experience".
EDA Summit 2022 is the second annual gathering of the foremost experts on real-time data movement, digital transformation, and event-driven architecture, from leading companies all over the world. It is a single-day conference dedicated to advancing event-driven architecture in business which has been hailed as "beautiful and well-organized" by 2021 attendees.

Why Attend EDA Summit 2022?
With a lot of the world going "virtual" in 2020, a lot of businesses were inspired to migrate to the cloud, adopt new technologies to improve their customer experiences, and take big steps to improve their digital processes with real-time data. The inaugural event in 2021 brought together over four thousand business leaders, enterprise architects, developers, and technologists for live and on-demand sessions hosted by a variety of EDA experts. These are some of the messages the organizers received regarding the event:
"One of the best organized online events that we have ever taken part in."
"Five star user experience."
"Pure technical enjoyment for all our senses."
From valuable business level sessions to technical sessions, from fun networking activities to virtual rooftop parties, EDA Summit 2022 is going to have something for everyone interested in event-driven architecture. No matter where you are in your EDA knowledge and journey, it'll get you to the next level — and you'll have fun doing it.
Here's some suggestions for how to make the most out of your experience.
1. Pick the Right Track
EDA experts from around the globe will share insights into the business and technical benefits of EDA, ways of overcoming implementation challenges, stories about how modern enterprises are using EDA to accelerate their digital transformation, and best practices for planning and managing event-driven journeys.
This year there are four tracks that will support you in your even-driven journey, no matter your experience level or where your company is at with their implementation:
Technical Leadership & Use Case Track
Discover how leading companies in a variety of industries are using EDA to underpin their digital transformations.
Architect Tracks 1 & 2
Take a deeper dive into the technical benefits of EDA and learn how to overcome implementation and scaling challenges.
Developer Track
By developers for developers. You'll find educational how-to's, tips and tricks, and best practices sessions.
2. Build Your Personal Agenda
EDA Summit begins at 9am ET on Wednesday May 4th and ends at 6pm ET and there are over 40 sessions to build your full agenda for the day. You can login to your personal EDA Summit portal now and use the schedule to build an agenda based on your unique interests.
The agenda builder lets you filter sessions by track and by tags so you can easily find what you're looking for. You can also save sessions for quick access later by following them with a heart badge. Once you've built your agenda, add it to your calendar (Outlook, Office 365, Google, Apple, etc.) so you don't miss anything!
3. Take Advantage of On-Demand Videos
In case two of the sessions you're interested in watching are happening at the same time, all EDA Summit videos will be available on demand for 30 days after the event, so you can catch any sessions you missed.
4. Networking & Virtual Party Space
You may not be walking around exploring a new city or enjoying a beverage or seven with some new friends, but there are still ways you can meet and connect with people. There will be a networking section where you can connect with other EDA enthusiasts via instant messenger, or phone, if they have included that option in their personal profile. Be sure to enter details in your own profile so others can connect with you too!
There will also be an exclusive virtual rooftop after party. Be sure to get there soon after the closing keynote to claim your spot and get a chance to explore the space and network with speakers, sponsors, and other attendees. Create your own avatar and stick around for tabletop games and virtual sofa chats.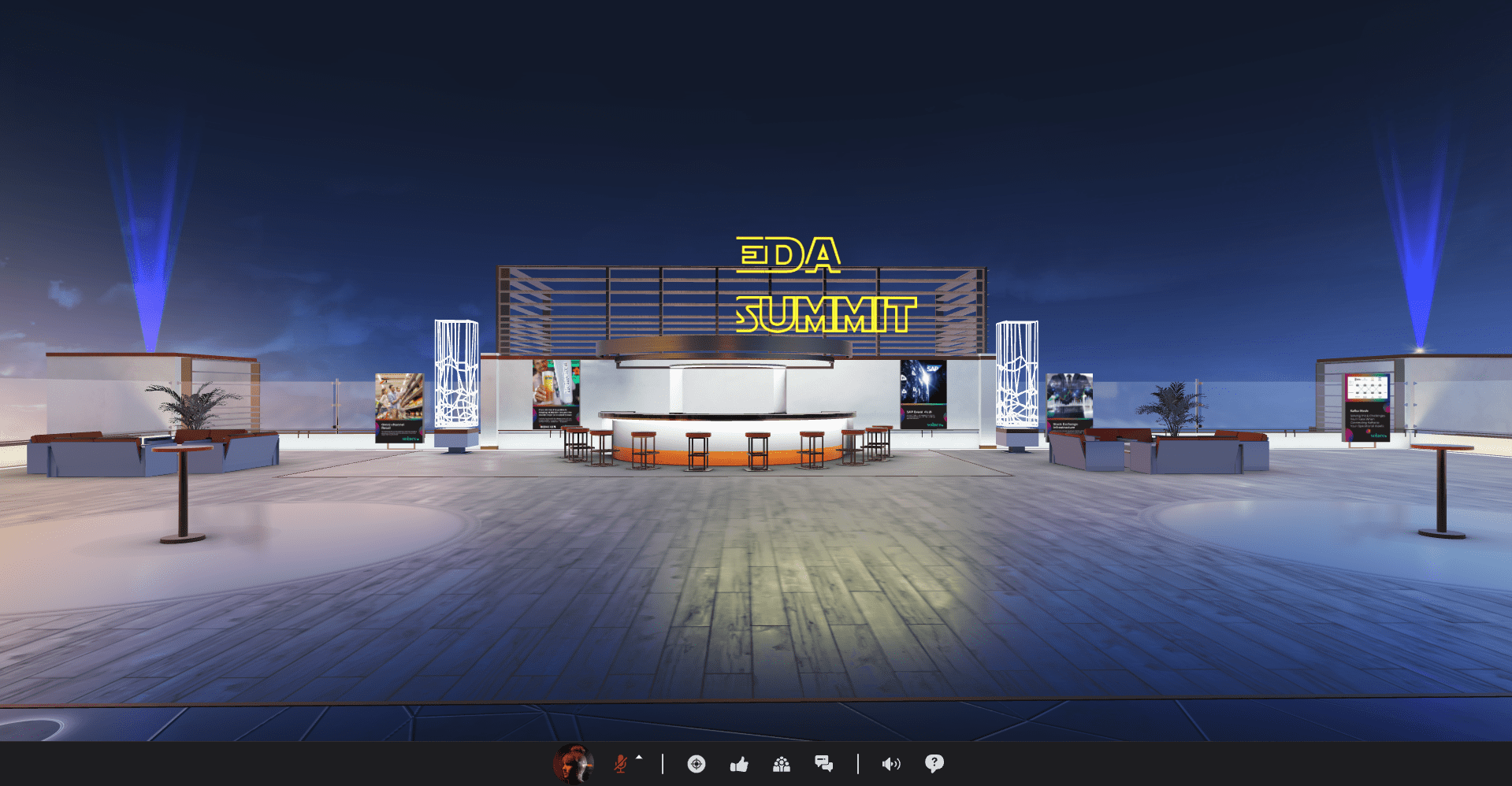 5. Participate in Q&As
EDA Summit speakers have a very unique perspective on the business and technical benefits of event-driven architecture. They also come from a variety of industries with their own implementation challenges, so EDA Summit is the perfect opportunity to take advantage of their knowledge. From banking to retail to auto manufacturing, these experts from around the globe are eager to share their own insights and help others make the most of their EDA journeys.
And then there's also Commander Chris Hadfield, the first Canadian Commander of the International Space Station, you'll want to ask him some questions after his special keynote presentation at 11:15AM!
6. Follow Along and Engage on Social Media
The organizers will be live tweeting throughout the day so you can keep track of what's being presented even if you can't attend every session you want to. Follow @EDASummit and use the hashtag #EDASummit to ask questions and engage with others! You can also follow the EDA Summit LinkedIn page to stay up to date on additional information prior to, and following, the event.
9. Have Fun, Move Around, and Stay Hydrated
Events – even virtual ones – can be exhausting. It's easy to forget that you still need to get up and move once in a while instead of video after video (even if they are very, very interesting!). So remember to stand up and walk around between sessions, maybe even go grab a glass of water.
The organizers have done their best to make sure it's easy to stay engaged during the event and between sessions, so have some fun and take advantage of activities like the photo booth, networking rooms, and exhibit hall.
Want to add a little workout to your EDA Summit experience? I dare you to do a jumping jack every time someone says "EDA" – that'll keep your blood flowing!