Today is an exciting day for Solace because we are introducing our second generation PubSub+ Event Portal. One of the best advantages of being first to market with an event management tool for event driven architecture is that we get to collaborate with our users on what can be improved and what they need to make this product more powerful.
It was always Solace's vision to add lifecycle management capabilities to PubSub+ Event Portal, and now we have that, plus much more. Organizations can now manage, govern, and integrate event flows across the enterprise. To say we're excited about how much easier it is for companies to adopt and optimize their event-driven architecture with this second generation of our event portal is an understatement. But, in the end we want to hear from you as to whether it is indeed more valuable.
You can watch this short video from our Principal Product Manager, Darryl MacRae that takes you through a short introduction of the rich capabilities OR you can keep reading.
What's New in PubSub+ Event Portal 2.0
To get access to Event Portal 2.0., use the toggle to select "New Event Portal 2.0" to "On". You can easily toggle back and forth between the two PubSub+ Event Portal versions.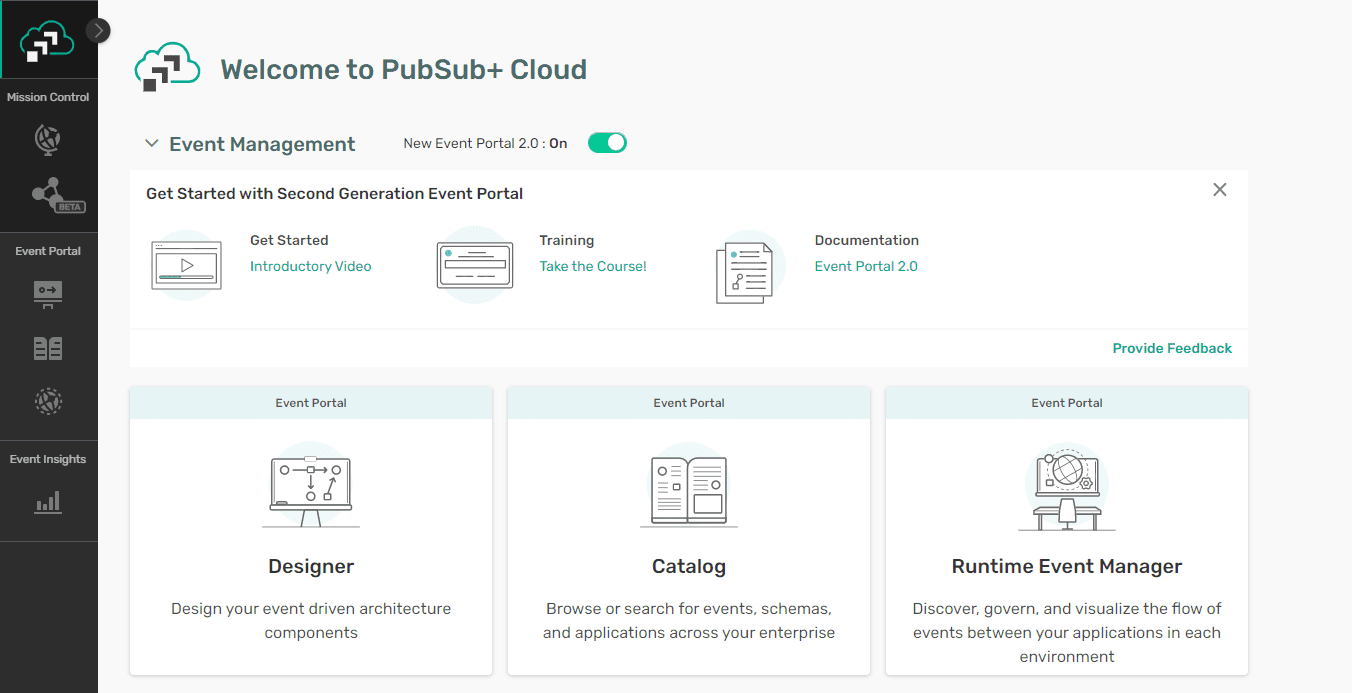 The new key capabilities available to you are:
More granular role-based access control (RBAC): manage who has access to which EDA resources at what level.
Version control and lifecycle status for each version of all objects: create and track every version of each of these object types through their lifecycle without negatively impacting other dependent applications.
Multi-environment support (e.g., dev, test, prod, etc.): promote new applications versions through the various development and operational environments to align with your software development lifecycle processes.
The Discovery tile has been replaced by Runtime Event Manager. Within this tile, you can model your various environments (e.g., production, staging, development) with their associated applications using modeled event meshes (MEM). A modeled event mesh represents an operational event mesh in a specific runtime environment. The graph views of your EDA for each event mesh is re now available in "Runtime Event Manager" instead of "Designer". This is also where the runtime data collection, audit, and import functionality will be made available over the coming months.
Event API Products are now managed within application domains and are built using new event APIs. You can find these within Designer and search for them in Catalog. Watch the video for an explanation.
The UI provides a much easier way to set and edit an event's topic address.
A second version of REST APIs, created to integrate with other systems, can now be accessed at Swagger UI.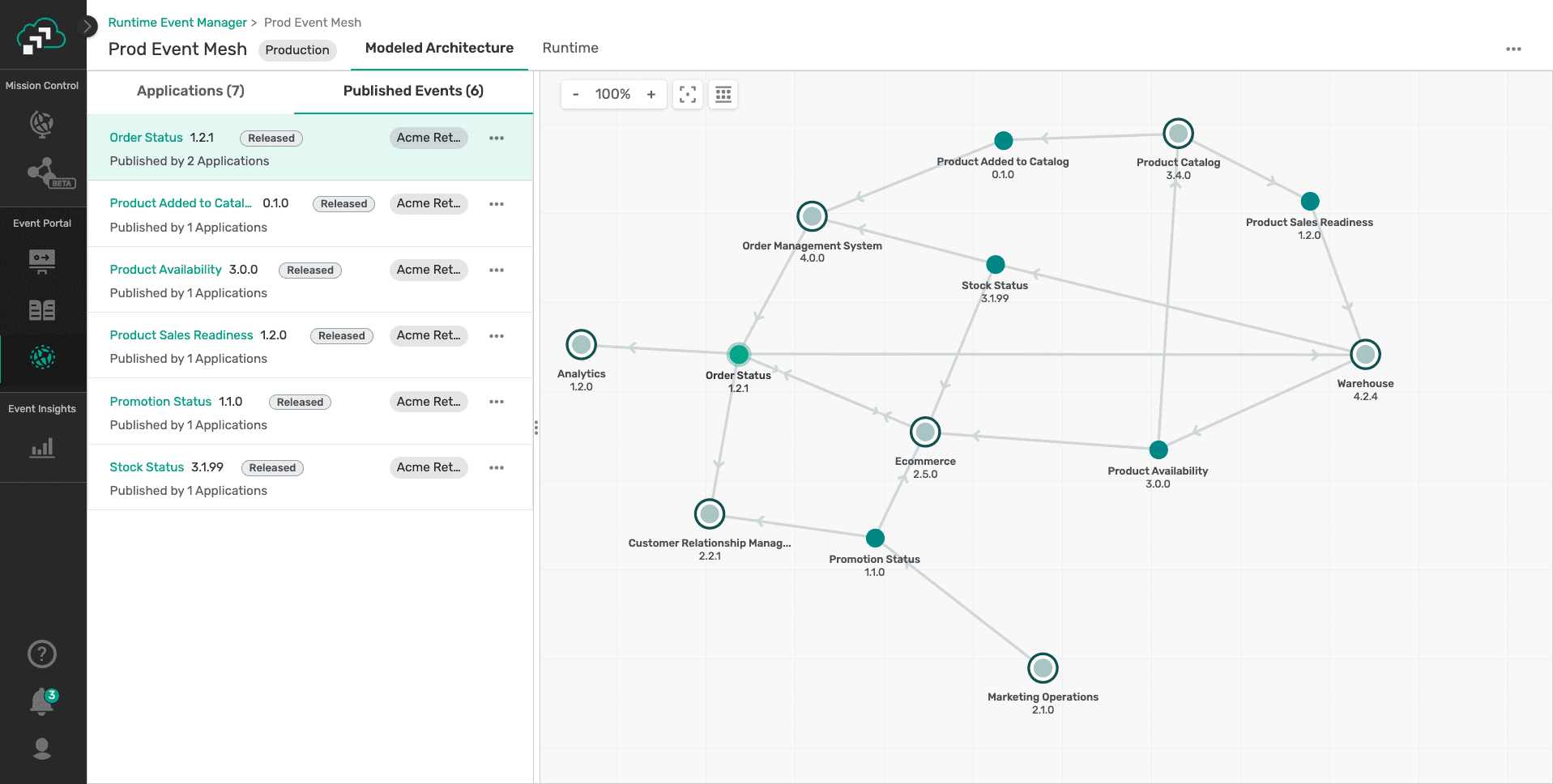 Lifecycle Management in Action
Multiple versions of applications produce and consume different events as they evolve. As new versions are created and promoted along the software delivery path from development to quality assurance to pre-production to production, enterprises need a mechanism to keep the production environment stable. The same type of promotion occurs with the underlying event and schema versions. This also requires that you be able to version these artifacts so you can have different versions of the same event or schema in dev, QA, pre-prod, and prod as you evolve them or deprecate them. Without this type of lifecycle management, if you have a few 100 or 1000s of events across 3-4 environments, how can you possibly manage the interdependencies of shared schemas, events or applications without negative impacts?
In this video below, Darryl MacRae demonstrates the power of managing the lifecycle of events in a retail scenario. Using an example, he shows how to determine why an order management system was publishing order status events without the customer ID and then adds the new version of the application to the dev environment for testing before promoting it to production.
For more information about these new features, please view the documentation at Event Portal 2.0 Overview
If you have a learning subscription at Solace Academy you can take the PubSub+ Cloud Event Portal Fundamentals Course to learn more as well.
Login to your account or sign up for a free trial to try it out.