As a local, I was lucky enough to be able to walk to Moscone Center. Still, with over 20,000 people piled into the same area, and San Francisco construction seemingly encroaching on all sides, it was a journey that resulted in a tear in my jeans and still missing the in-person keynote that I'd been so excited to see (see Tweet for some additional details).
BUT I was able to nerd out in the front row of the overflow room and get some world-class photos like this one: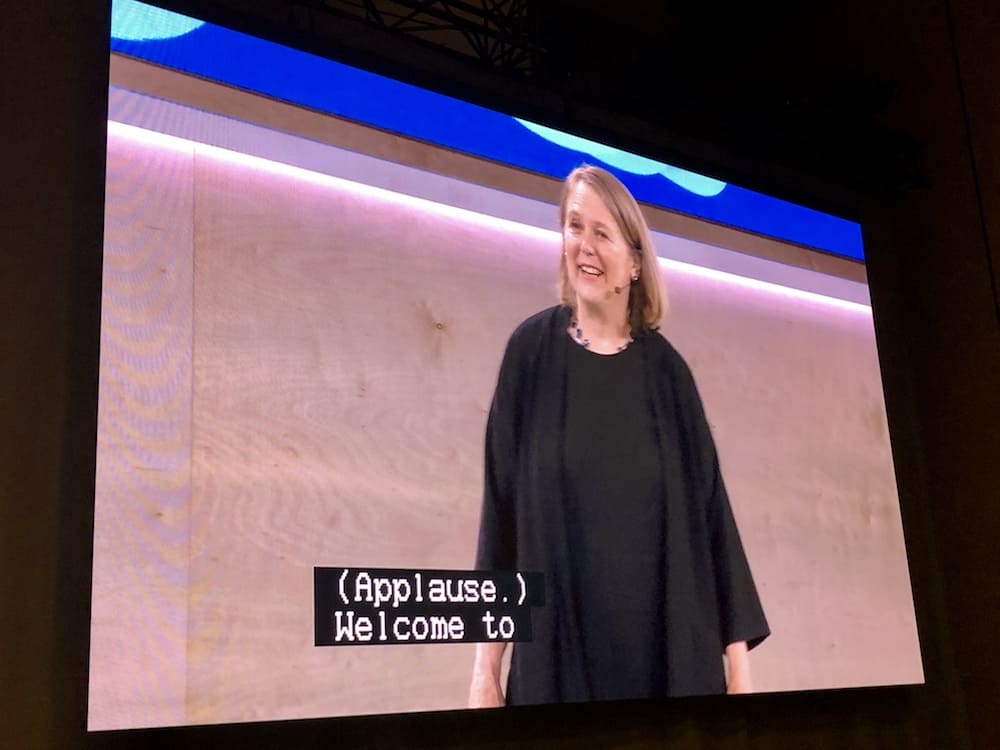 Yes, that's Google Cloud's CEO Diane Greene. She kicked off Google Cloud Next 2018 by asking a question hundreds of thousands of architects and developers around the world are also asking:
"Why Google Cloud?"
AWS has become the cloud default for many, but as Fortune reported on Monday, shares in Google's parent Alphabet rose nearly 5% thanks in many ways to the massive success of Google Cloud.
Here's how Gartner's April 2018 Magic Quadrant for Cloud Infrastructure as a Service paints the competition: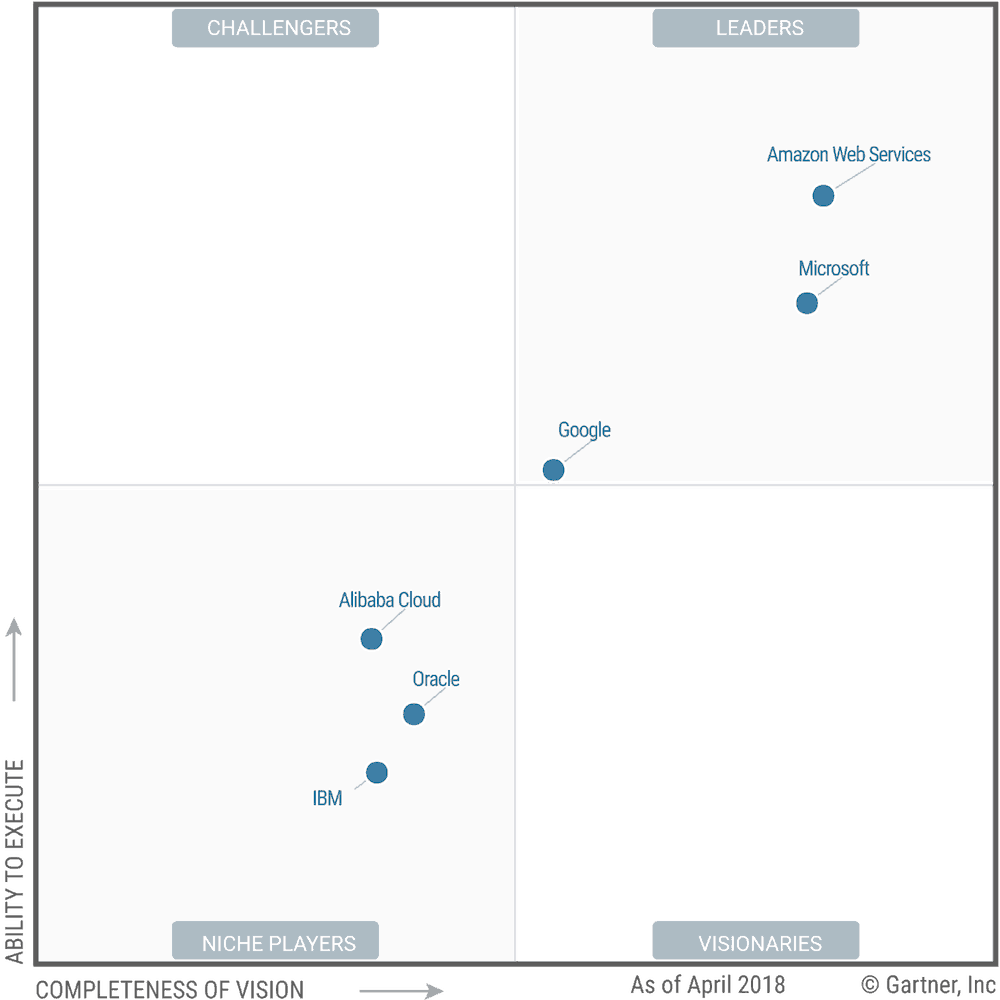 "We've been scaling and optimizing this cloud for 20 years," Greene began, appealing to those who would naturally be comforted by a nod to the company's experience and expertise. From there she rather systematically addressed any potential "but" statements in the audience may have—from security to how they're pushing the boundaries of artificial intelligence.
Diane positioned the rapid success and adoption of Kubernetes as a glimpse into what attendees can expect from all aspects of the Google Cloud Platform. She then mentioned how the game development platform Unity has recently removed from AWS to GCP before introducing a few a people to share their stories of moving to or using GCP. This included Mike McNamara, Target's Executive VP, Chief Information and Digital Officer, and Bernd Leukert, Member of the Executive Board at SAP.
From there Google's CEO Sundar Pichai took the stage.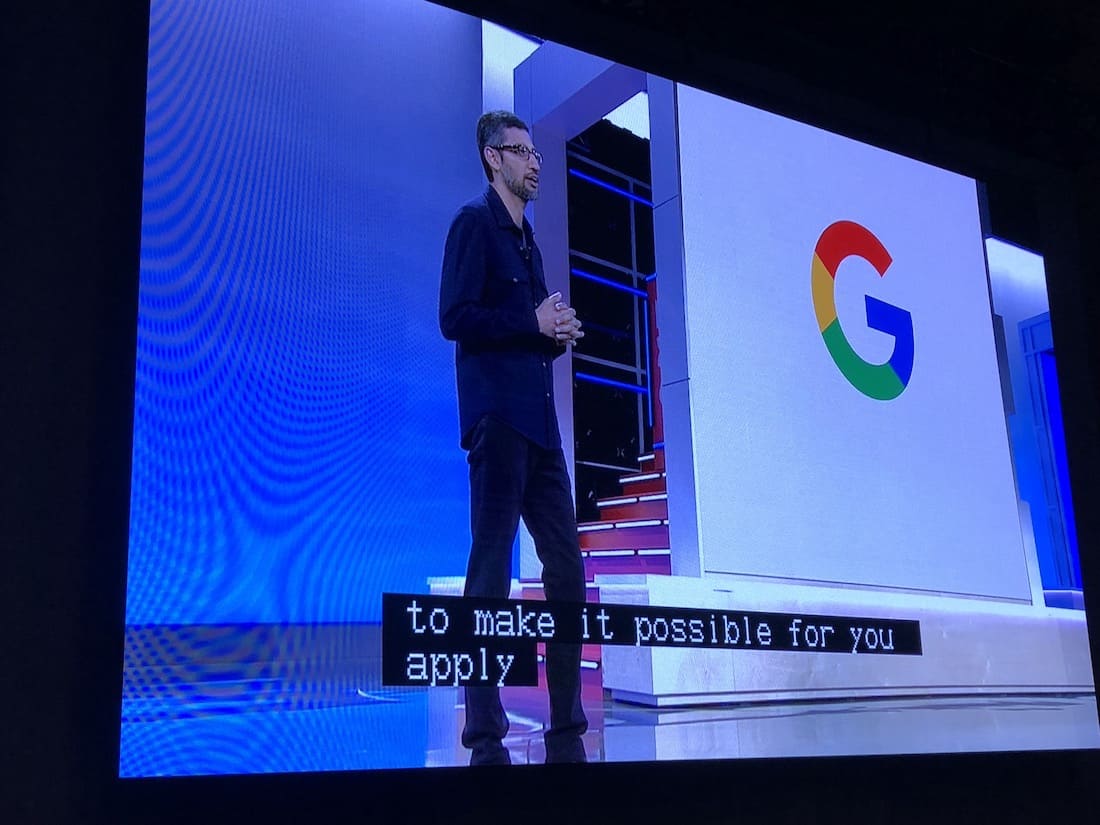 Before reiterating the importance of Kubernetes, he handed it over to Google's first VP of Engineering (and employee 8!), Urs Hölzle, who spoke to the unnecessary complexities that occur in multi-cloud strategies and about how between 2005 and 2015 server costs throughout the world have reduced by 15% but how admin costs have shot up 83%. Yes, he too drove home the importance of Kubernetes, and dropped an impressive statistic I wasn't aware of:
75% of enterprises are using Google Kubernetes Engine.
The Google Cloud team also unveiled a variety of new projects, products, and initiatives—with a special focus on Istio, an open platform to connect, manage, and secure microservices (see full list of announcements below).
As each Googler spoke, some powerful customer quotes appeared behind them—including from elite CTO's such as HSBC's Dinesh Keswani. David Goeckeler, Executive VP & General Manager in the Networking and Security Business at Cisco, also spoke to and endorsed the power of Kubernetes and Istio.
From there, Prabhakar Raghavan, VP of G Suite, ran through the many exciting developments on the workplace productivity front (Kimberly Anstett, the CIO of Nielsen vouched for this). The session was then handed over to AI rockstar Fei Fei Li who spoke about Kaggle, the world's largest machine learning community, as well as AutoML offerings: Vision, Natural Language and Translation.
Along with the announcement of Google's new Contact Center AI, both Dan Leiva, eBay's Vice President Customer Service Technology, and Merijn te Booij, CMO at Genesys spoke.
Session: Bringing You the Future of the Cloud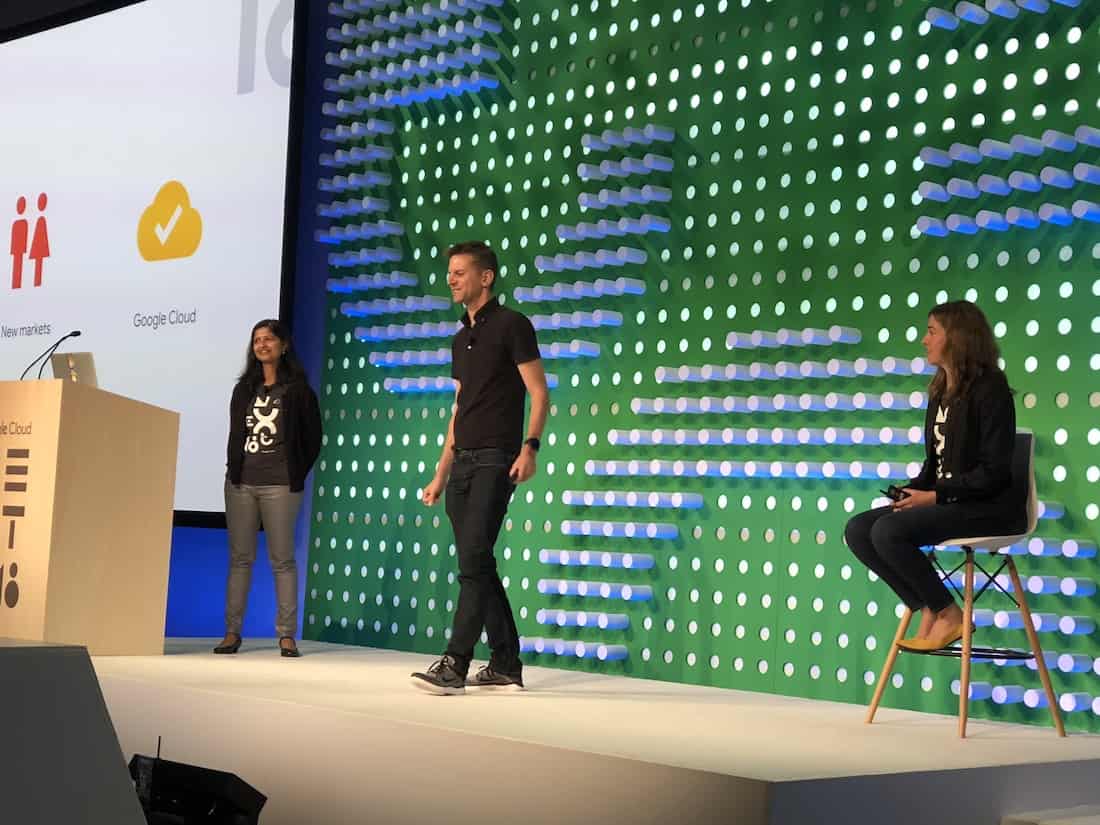 This Kubernetes-focused section was led by Google Cloud engineering director Chen Goldberg (right) and group product manager Aparna Sinha (left). After Aparna showed a few fantastic demos using Kubernetes and Istio, eBay's platform architect Jeff White spoke about microservices at scale and how his team uses them.
In Jeff's words:
"Istio reduces our operational complexity. By moving networking logic from our services to the infrastructure we are able to uniformly monitor our systems."
Session: Serverless on Google Cloud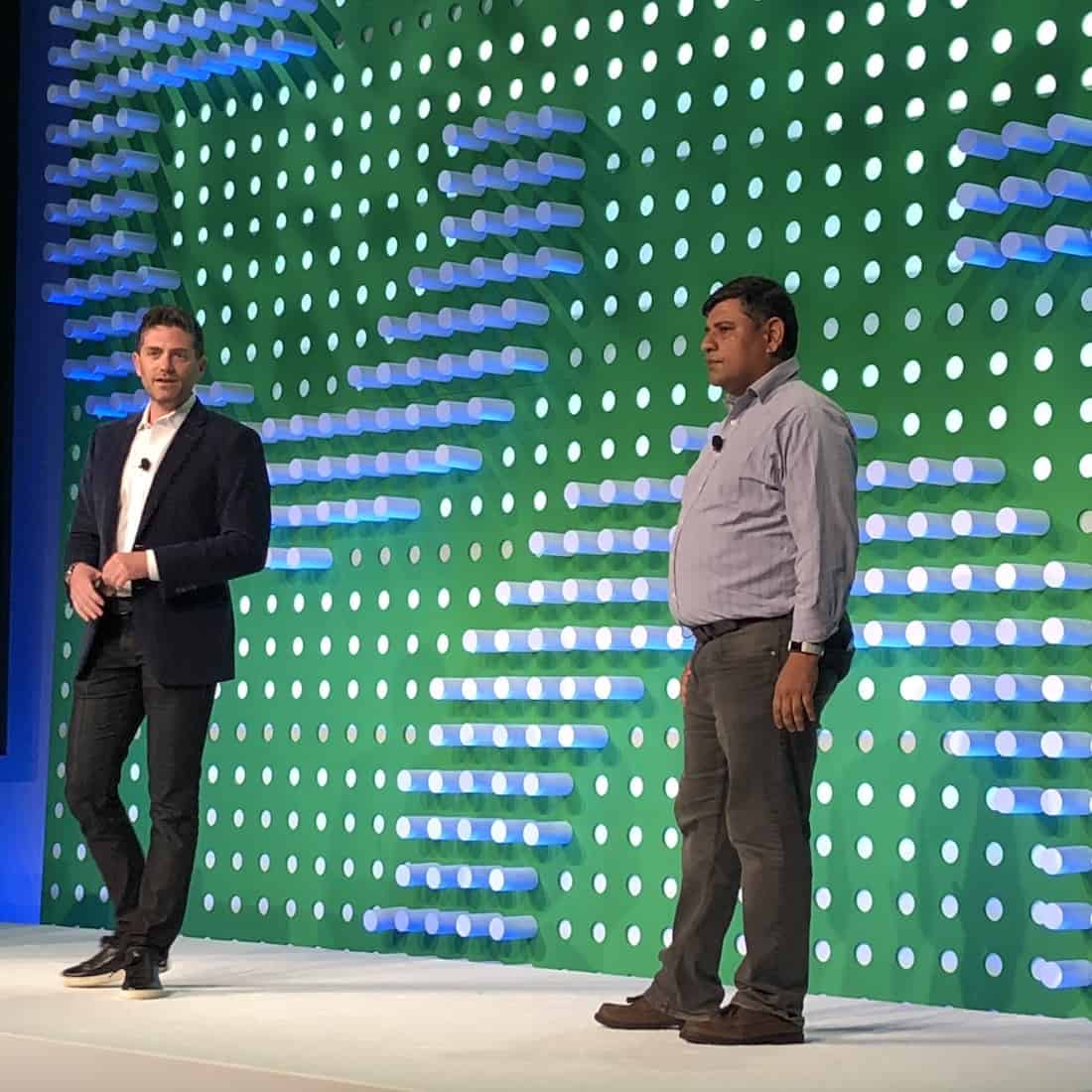 Oren Teich (left), Google's Director of Product Management, led this session about how you can build end-to-end serverless applications using App Engine and Cloud Functions.
Oren, who has been the most dynamic speaker of the event so far, opened with a breakdown of the serverless concept, including a dig at the horrible name of it and a deeper dive into both the operational and programming models.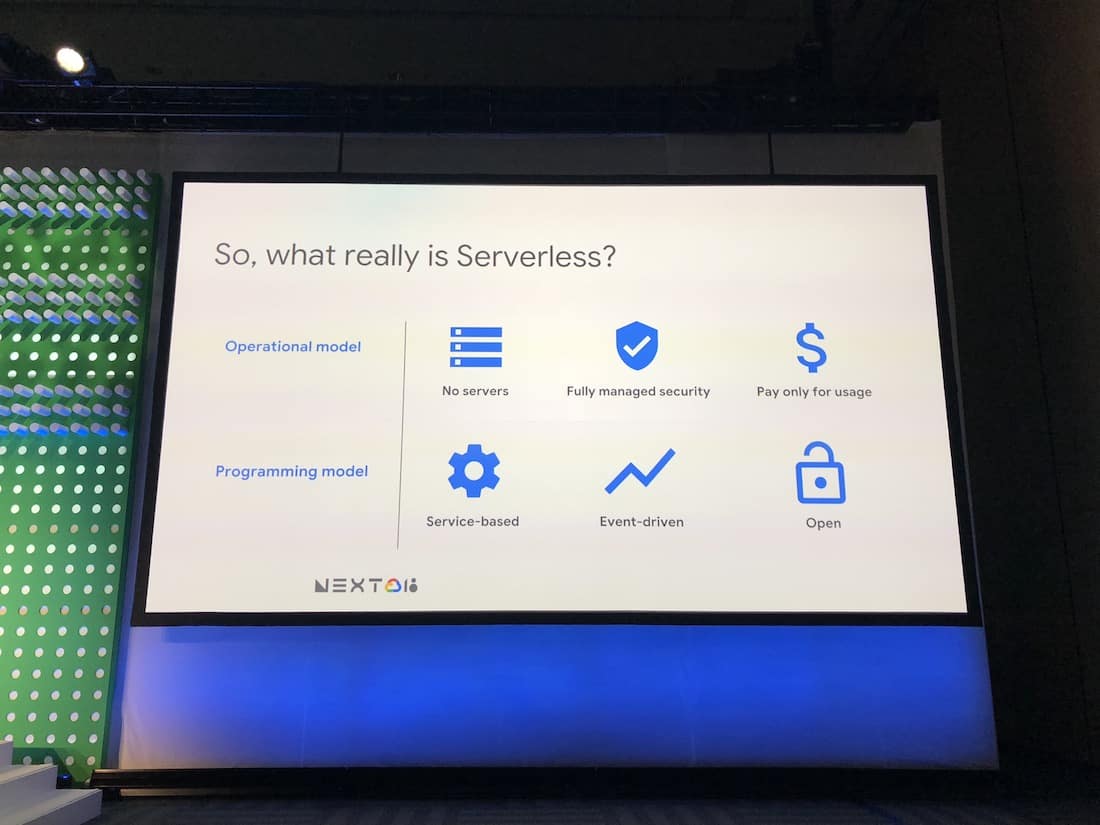 He was joined on stage by Deep Kapadia (right), Executive Director of Engineering at The New York Times, and Michael Wintergerst, Vice President of SAP, who both spoke about how the offerings within GCP have catapulted performance for their companies.
According to Deep:
"Google Cloud's serverless platform allows us to focus on building product features without having to worry about provisioning, scaling and configuration management for the underlying infrastructure. The tools and abstractions have been a game changer, allowing teams to iterate and scale with ease."
Michael at SAP focused primarily on the partnership between Google and SAP, with an emphasis on Kubernetes:
"With Kubernetes, SAP Cloud Platform is making it easy for customers to embrace multi-cloud application development and deployment. Knative will further enable SAP to accelerate enterprise-grade serverless and event-based applications. SAP Kyma is the first open source project being a lighthouse application for SAP on Knative."
Session: How Twitter Migrated its On-Prem Analytics to Google Cloud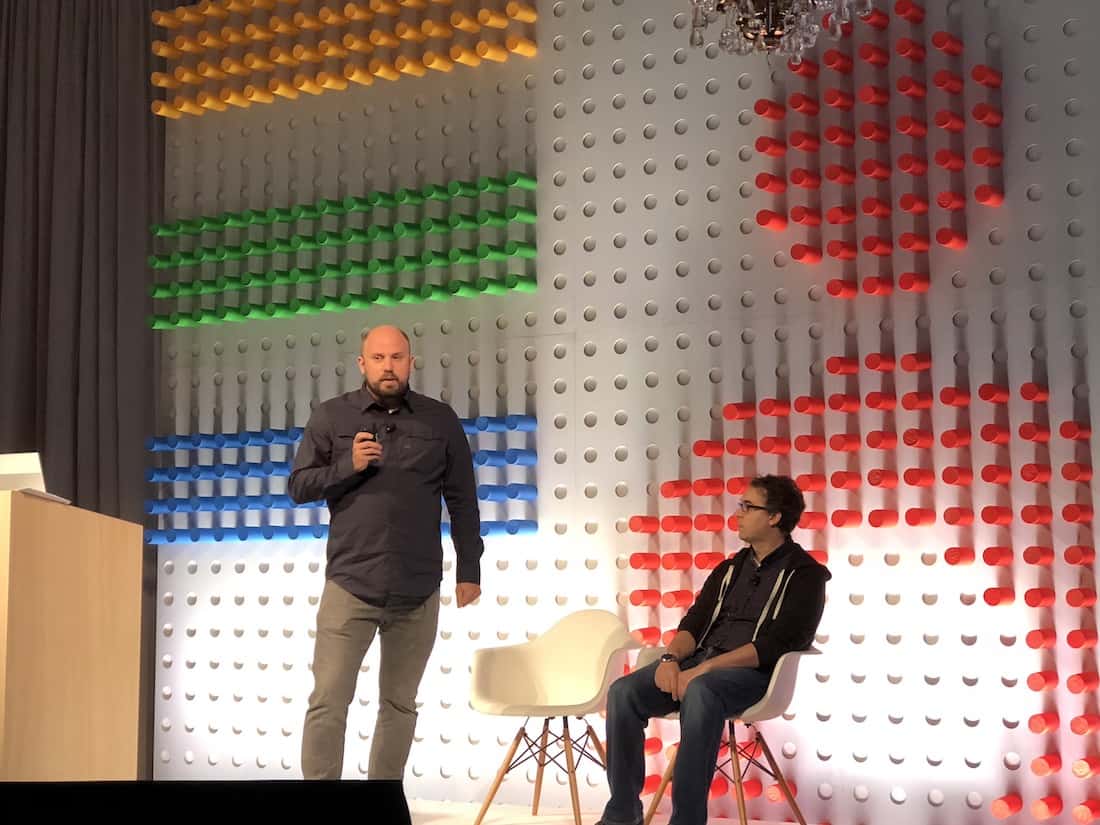 The final session I attended was a fascinating glimpse by Twitter software engineers Fabian Menges (left) and Steve Niemitz (right) into the philosophy and technicalities of Twitter's migration.
For a technical audience, and any audience interested in the ins and outs of moving from on-prem to the cloud, this was the day's best session. Attendees had a ton of questions, and Fabian and Steve fielded a ton of them.
Here's a glimpse into their legacy Lambda architecture: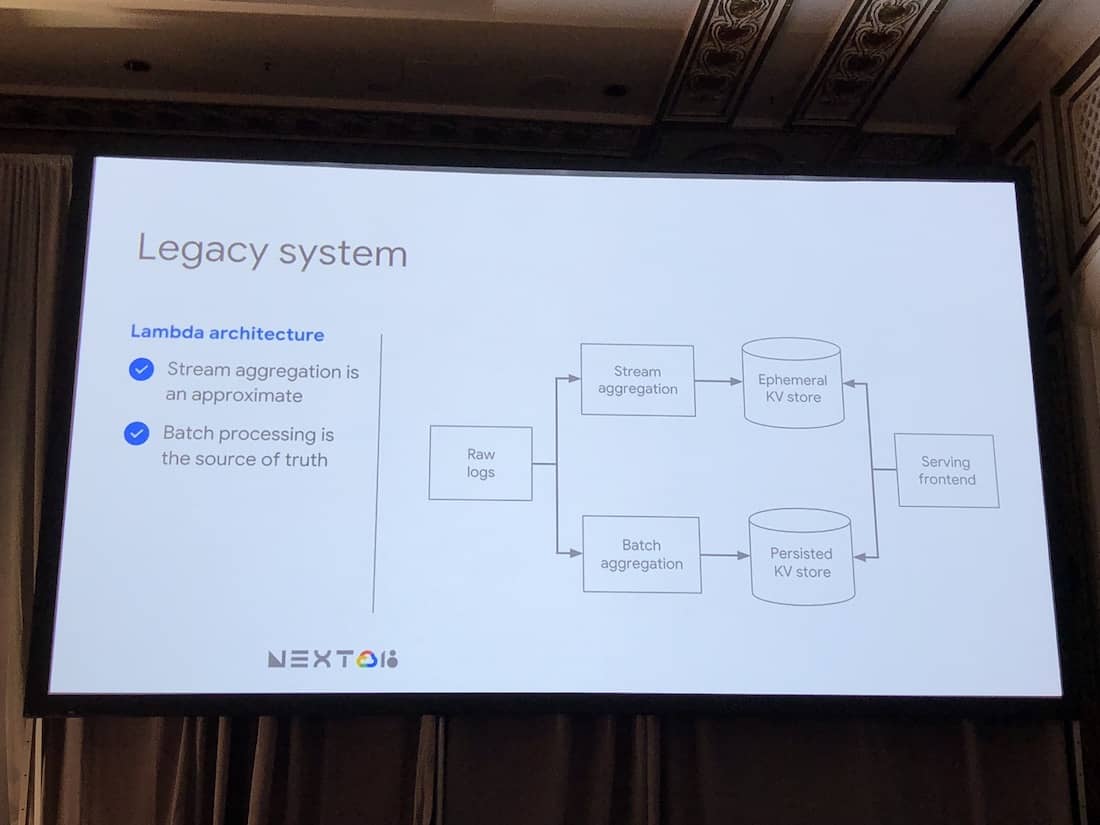 And here's their next-generation Kappa architecture: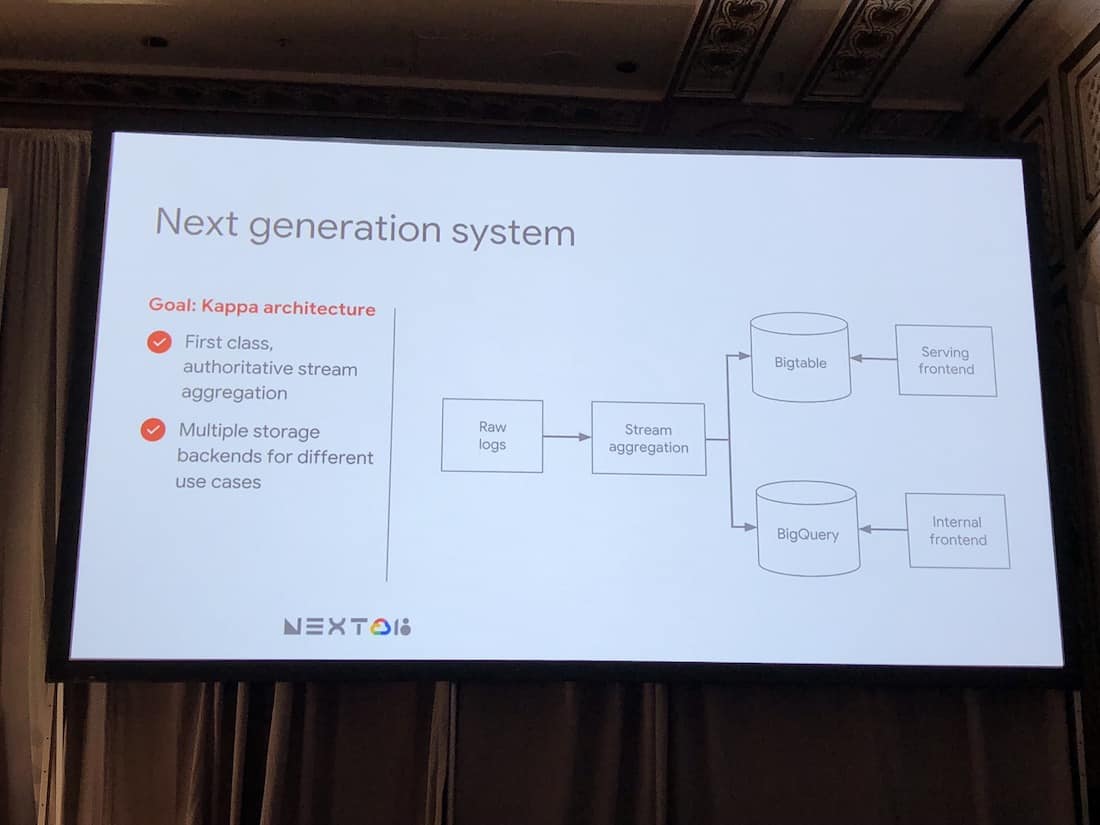 Google Cloud Next 2018 has been an incredible event so far. Here are a few of the many announcements that happened yesterday:
Lastly, we hope to see a few of you at Solace booth W3118. Here's who you'll be able to meet up with:
Can't attend or meet up, but want to watch? Here's 8 hours of footage from yesterday: