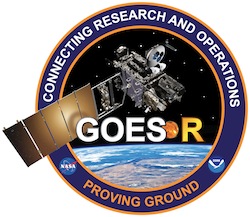 Today, we announced a new customer relationship with communications and information technology giant Harris Corporation detailing that they have selected Solace to power the on-the-ground portion of a satellite weather system jointly developed by NASA (the space guys) and NOAA (the weather guys).
This is part of a project called GOES-R (Geostationary Operational Environmental Satellite R-Series). Here is its stated mission as described on the GOES-R website:
The advanced spacecraft and instrument technology used on the GOES-R series will result in more timely and accurate weather forecasts. It will improve support for the detection and observations of meteorological phenomena and directly affect public safety, protection of property, and ultimately, economic health and development.
GOES-R provides essential information related to air quality, coastal and marine monitoring, fire monitoring, hurricane forecasts, precipitation and floods, land cover observations, volcanoes, lightning detection, severe thunderstorms, tornado warnings and more. If you're interested in learning more about this project and the advances it will deliver, I highly recommend checking out the GOES-R site. Here are some fun facts I learned in just a few minutes of browsing:
The instruments on the GOES-R series will produce more than 50 times the information provided by the current GOES system and will offer unique observations of the environment, with emphasis on hazardous weather in the western hemisphere and space weather impacts.
Data provided by the GOES-R instruments will be used to create 65 different products that meteorologists can use to monitor the weather.
Information from the GOES-R satellite will improve short-term weather forecasts such as severe thunderstorms and tornadoes, as well as long-term climatological trends.
GOES-R will be the first of a new fleet of GOES satellites (R/S), marking the first significant upgrade in GOES weather monitoring capabilities since the start of the GOES I/M series in 1994.
The instruments on the GOES-R satellite are particularly cool:
The GOES-R satellite is scheduled to launch in 2015.  We are very proud to to be working with Harris to make the GOES-R vision a reality.