Snowflake is a data warehouse built for the cloud. It provides enterprises with a cost-effective combination of the power of data warehousing, the flexibility of big data platforms, and the elasticity of the cloud. Snowflake can help you bring together diverse data into one system for data warehousing, query processing, and analytics. The solution enables Solace messages to be published to Snowflake tables via S3.
Solace PubSub+ Platform is an event streaming and management platform that helps enterprises design, deploy, and manage event-driven systems that span cloud, on-premises and IoT environments so they can be more real-time. It allows creation of event-driven apps and microservices on any platform with whatever language, open protocols, and APIs you choose. Solace PubSub+ has native connectivity to S3, which can be staging area for Snowflake.
In this blog post I will create a pipeline flowing from Solace PubSub+ into Snowflake that is real-time and can be used to power a real time analytics process or dashboard.

Solace provides native connectivity to S3. The Solace PubSub+ broker uses a REST Delivery Point (RDP) as a webhook to publish messages to S3 as files. This can be achieved without any intermediary services like API gateway or lambda.  S3, in turn, can be useful as the staging area for loading Snowflake tables via Snowpipe. Snowpipe loads data from S3 files as soon as they are available in a stage. Solace also has native connectivity with S3 equivalents on other cloud providers such as Google storage and Azure Data Lake Storage, so a similar solution can be built if you are not using Amazon Web Services.
Snowpipe is Snowflake's continuous data ingestion service. Snowpipe enables real-time ingestion of records into Snowflake tables as they arrive in the stage. A stage is a storage location from where Snowpipe can load data into a Snowflake table. In this example, we are using Amazon S3. In a nutshell, Snowpipe provides a "pipeline" for loading data in micro-batches as soon as it is available.
The Snowpipe flow is illustrated as below: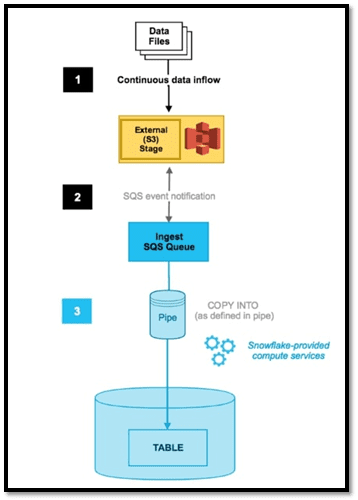 The output of our work today will create a pipeline flowing into Snowflake that is near real-time and can be used to power a larger analytics process or dashboard.
Conclusion
In this blog post I described a solution for real-time integration between Solace PubSub+ Event Broker and Snowflake for JSON records. Furthermore, this solution can be extended to any business use case where a real-time/near-real-time data ware-house solution is required. This can be widely used in real-time analytics, which can help fast-moving businesses strengthen marketing and sales synergy, optimize workflows, and react quickly to customer behavioral data and market dynamics. If you have any questions or want to learn more, visit the Solace Developer Community.