A big part of our developer relations team's mission in life is making life easier for developers of event-driven systems, so I'm pleased to introduce a new set of icons that I hope will make it easier for architects, developers and dreamers looking to communicate and collaborate on their ideas for building event-driven systems and processes.
The library contains icons and assets designed to make it easy to create clear, compelling architecture diagrams that illustrate implementations of event-driven architecture (EDA), specifically those built with the products of Solace PubSub+ Platform, including our event broker, event platform and wide range of APIs and connectors.
Here's the kinds of icons you'll find:
Solace Logos and Products: Lots of event broker options, and logos for other products, with cards that can be used to provide details.
Events/Messages and Their Delivery: different kinds of messages, exchange patterns and queues.
Event Meshes: Icons and backgrounds for representing event meshes.
Integration: Solace messaging APIs and connectors, and supported open APIs and protocols.
Endpoints: Applications, computers and connected devices, vehicles and buildings.
Other Technologies: Commercial and open source applications, clouds, containers, middleware, observability tools, etc.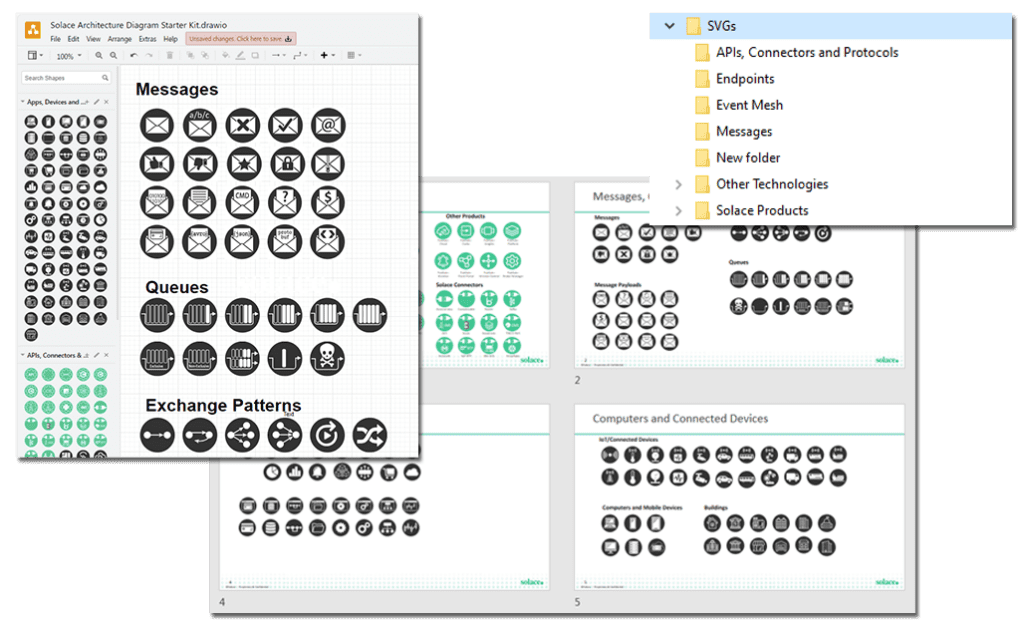 We've made these icons available as PNGs in a powerpoint, SVGs you can use in your favorite diagramming tools, and Draw.io libraries.
If you design event-driven systems I hope you check it out, find it useful, and let us know what you think. If you've got questions or suggestions, please email our developer relations team at devrel@solace.com or weigh in over in our community forum.