It's not every day you can hear six senior Telco execs from around the world reflect on the impact of IoT, and share their experiences and best practices for IoT operators in Telco.  
But February 27, 2019 was the day if you were at Mobile World Congress.  
With more than 100,000 visitors and 2,400 exhibitors, MWC Barcelona's reputation as the premier event on the telecom calendar is well deserved. Taking up all nine halls at the enormous Fira Gran Via exhibition center, I had no problem getting my daily steps in! Check out this timelapse from the event:
Solace exhibited in the IoT pavilion for the second year in a row. I'll let you guess which one is me: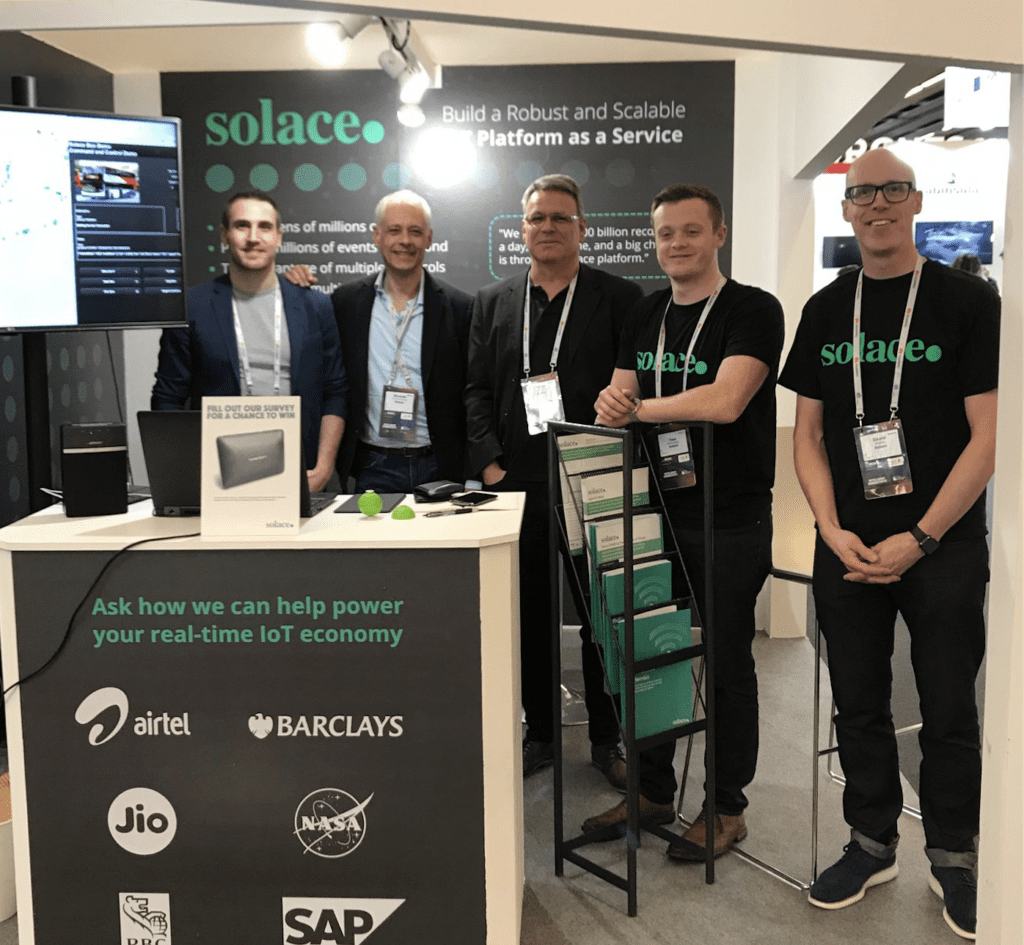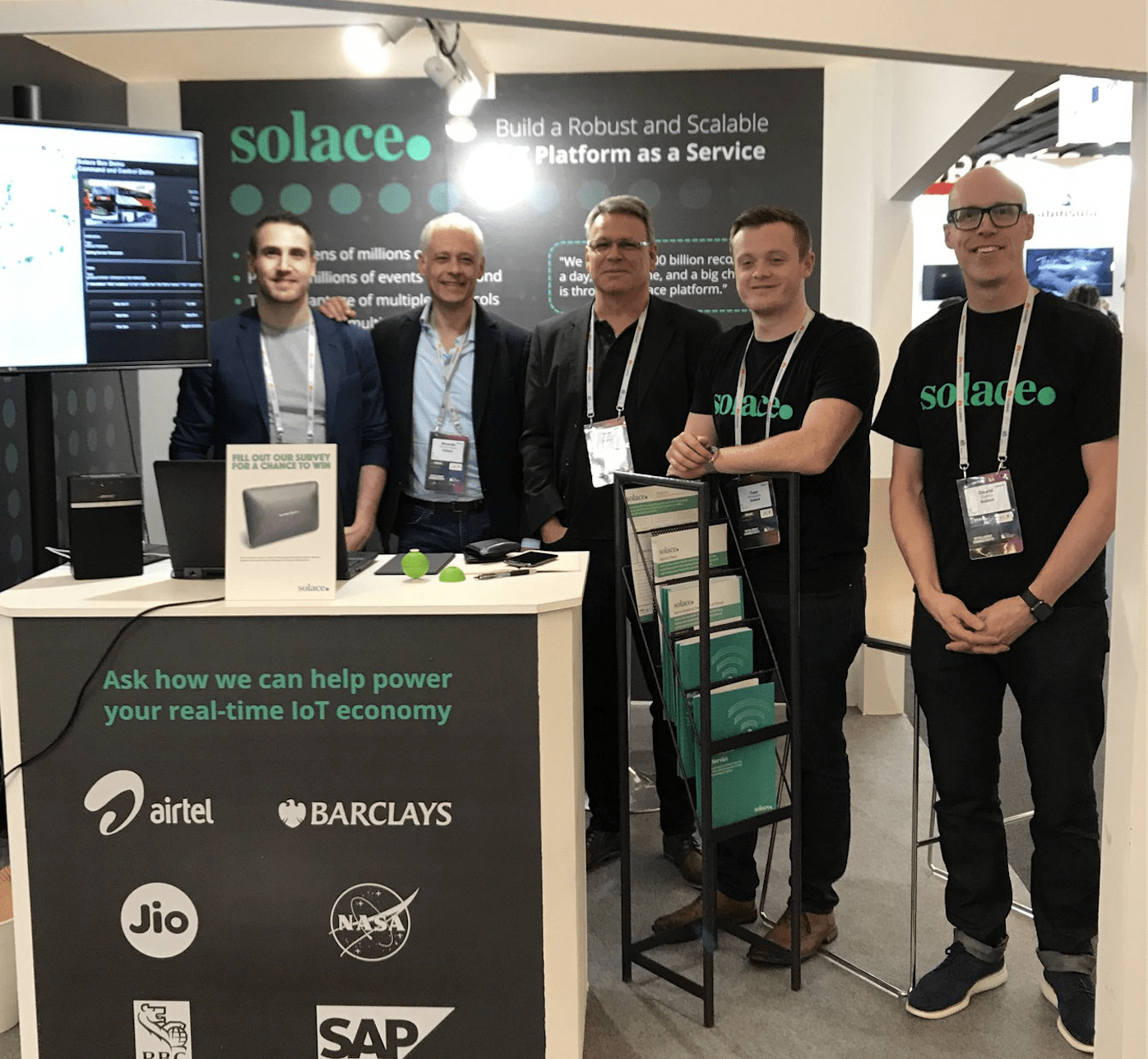 I attended several seminars covering telco best practices for participating in a burgeoning IoT marketplace, but by far the best session was Beyond Connectivity – Operator IoT Capability: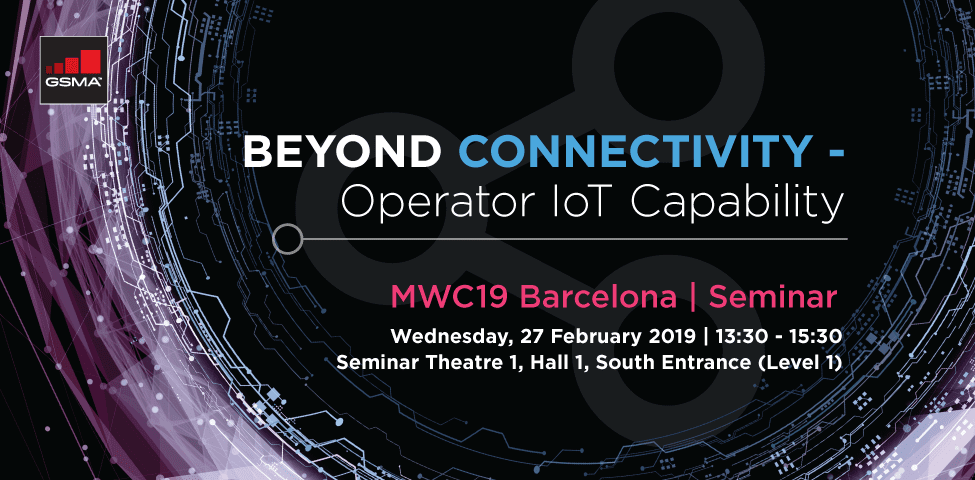 The session featured these hot shots:  
Here are my 6 top takeaways from the two-hour session:  
1. It's still early days, and there's no established pattern for success
Neill Young told attendees there are a huge number of technologies, services, platforms and vendors that operators can engage with, as well as avenues they can pursue to win new customers and new markets. All of which can be somewhat overwhelming for operators, whose skill sets up until now have been focused primarily on connectivity, network and platform management. Now they have to move beyond connectivity into the world of cloud computing, edge networking, distributed ledger technologies, and more, to come up with new services, revenue streams and markets.
2. Operators can lean on their own experience to succeed
John Gole said that all operators are coming at the problem from different angles and have different strengths they can draw upon. Some are only mobile operators, others have strong IT services and consulting businesses, while others have large R&D departments and are looked to by their customers as leaders for upcoming technology. Those with strong IT services and consulting businesses can build horizontal building-block capabilities to enable others to develop the vertical-specific solutions, whereas more limited, mobile-only players have the opportunity to develop full end-to-end vertical IoT solutions by making acquisitions as a way to quickly increase the addressable market.
3. Connectivity is paramount, but it's not highly compensated
Far EasTone's Luke Wang said that operators own the most critical element in the IoT value chain – connectivity, without which IoT couldn't exist. However, the value captured by connectivity is very small compared to applications. John Gole said that connectivity will remain a critical part of operators' competitiveness in IoT and form the foundation on which additional services can be built. He shared some GSMA research, which showed that 62 percent of operators globally already offer IoT/M2M connectivity services. (tweet this)
The issue, however, is that telecom operators are only able to address a small sliver of the larger IoT pie with just connectivity, only about 2.5%. IoT connections over NB-IoT, for example, have an ARPU per device connection of approximately 1 euro per year.
4. Telcos have to move up the IoT value chain
Wang said Far EasTone had initial success winning some high revenue, end-to-end accounts, but found they were not very profitable as the telco was only supplying the connectivity while partners delivered the applications. They calculated their share on the IoT value chain was less than 5% of total revenue. What's more, their customers valued the applications more than connectivity, were talking directly to the application providers, and didn't really care who provided connectivity.
Singtel's Sriram Venkataramani said telcos always get stuck with the label of dumb pipe providers, and that they need to move beyond that to provide what we call intelligent connectivity. One of Singtel's strategies has been to focus on security through a value-added service that allows businesses to define access policies and create isolated private networks on demand, while providing the controls and insights necessary to protect IoT devices from cyberattacks and threats.
5. Center strategies on building IoT platforms
To move up the value chain, Wang said Far EasTone started to offer their own applications, buying off-the-shelf software and having it customized by the vendor to meet their use case. They also changed from an organizational perspective, creating an in-house development team to create application enablement platforms and building applications on top to enrich their portfolio. Recognizing they couldn't cover all verticals, they continue working with partners, but those partner applications are integrated with the Far EasTone IoT platform, leading partners rather than following in business engagements.
Wang said one platform they initially built for an energy provider contains various modules with functions that include green energy integration, demand management, preventive maintenance, billing and settlement, and more. By combining the modules in various configurations, they can package solutions for customers in multiple segments with different requirements, including office buildings, power grids and retail chains.
Venkataramani said that one major benefit of creating IoT platforms is that they can offer a single pane of glass for solution management. Customers shouldn't have to log into multiple back-end systems to access data and perform analytics. Singtel provides the connectivity and systems integration, but doesn't want to build the underlying technology for device management. They'd rather provide the glue to bring everything under one portal, IoT Elements, which they will continue to evolve as they add more vertical and horizontal solutions.
6. Don't forget about the impact of 5G
John Gole pointed out that concerns about connectivity had faded into the background over the last few years as network operators largely had this problem solved. That will change with the move to 5G, as they move to get it up and running to deliver ultra-reliable, low-latency capabilities. Operators will have to focus again on connectivity, however, as 5G will open many new use cases for mobile operators that they couldn't handle with existing networks, such as industrial IoT applications including factory automation.
I hope these notes from the session were interesting to you! If so, you might enjoy our paper about how telcos can leverage and grow with IoT.