The second and final day of Kafka Summit 2018 offered up an array of excellent speakers, including a brilliant opening keynote from Martin Kleppmann of the University of Cambridge.
Kleppmann's talk, Is Kafka a Database?, asked a fundamental though controversial question, and he conveyed his solution through each property of ACID (Atomicity, Consistency, Isolation, Durability).
A fascinating panel discussion, titled Stream of Consciousness: Industry Leaders Discuss Kafka, followed Kleppmann's talk.
Moderated by Confluent's co-founder and CTO Neha Narkhede and including Microsoft's CTO Kevin Scott, Slack's Head of Engineering Julia Grace and Confluent's co-founder and CEO Jay Kreps, the discussion naturally began at Kafka's rise at LinkedIn and ended with each panelist giving a glimpse into the future.
Narkhede did a fantastic job as moderator, transitioning when needed and allowing all voices to be heard. Here's the full video:
From there I attended a talk from IBM's Chatura Fernando (left) and Sasha Williamson (right) titled Building Human-Centered Apps with Kafka: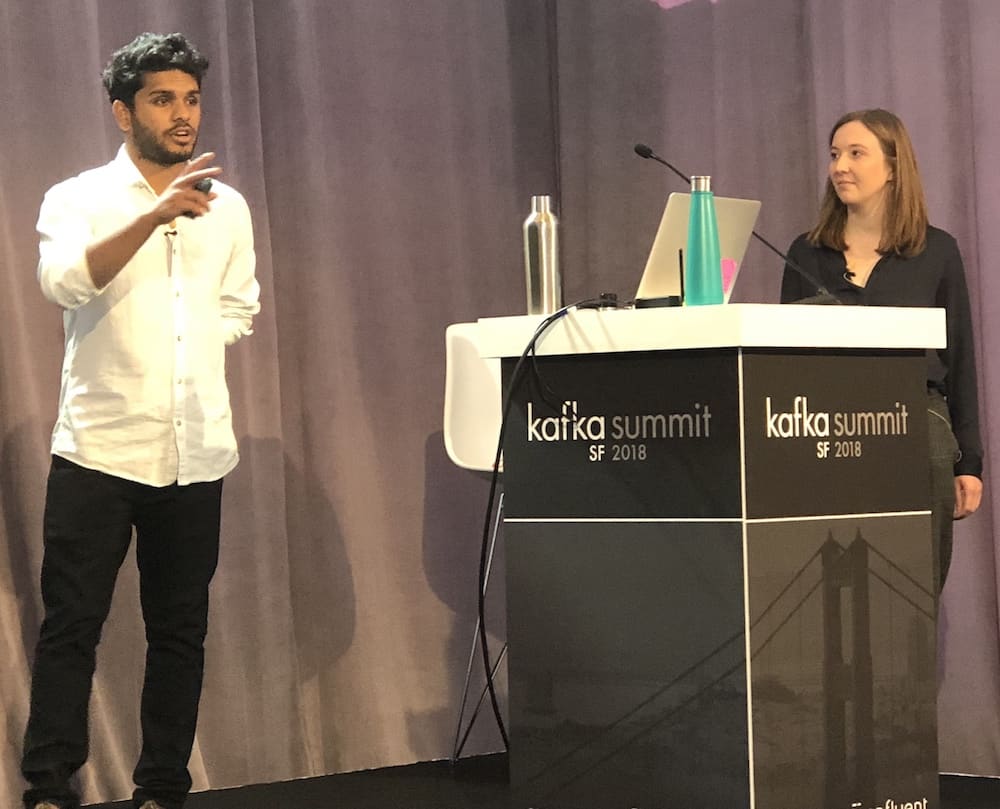 Centered around IDEO's principles of design thinking, Fernando and Williamson shared a glimpse into how IBM's "enterprise design thinking" framework serves to create better customer experiences. Here's a high-level look at IDEO's process:
As the conference closed I had the honor to meet a few incredible people I'd like to mention here.
First, Ryan Vary. Vary is a computer systems engineer at the United States Air Force, and he brings a deep sense of event thinking to the important global projects he's working on.
Second, I met Bjorn Kvernstuen and Tommy Jocumsen of the Norwegian Work and Welfare Department (NAV).
They were fresh off their talk titled Life is a Stream of Events. We spoke about the immensely important social consequences of their work (over a third of Norway's national budget is distributed through NAV) and the technological and cultural shift it takes to move from and integrate legacy, batched processes with modern, event-based messaging.
That's a wrap from Kafka Summit 2018! Our team at Solace had a fantastic time and we hope to see you at future Kafka Summit events. Here's what's coming up: