Working at a fast growing technology company is a lot like running a popular restaurant. You run your feet off making sure your customers have the best possible experience through each interaction with your people, products and services. From the way you welcome your guests (marketing), to the way you design your menu (product development), to the nature of the service you provide (sales and support), you're always asking "how could we do better?" Those restaurants that dedicate themselves to answering this question survive and thrive. If you do it well enough for long enough, someday one of the respected bodies will recognize you as one of the best restaurants in your city or country, or maybe even the world.
Today is one of those days for Solace. Deloitte has published their "Technology Fast 50™" list, recognizing the fastest growing technology companies in Canada, and we're proud to report that Solace placed 11th on the list, and first in Ottawa with a five year growth rate of 1, 512%. This is the third straight year Solace has made the list, having placed 14th in 2010 with a five year growth rate of 2, 296% and 25th in 2011 with five year revenue growth of 937%.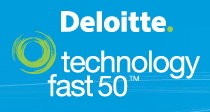 We've come a long way in the last five years. There are about two dozen companies that sell some form of messaging middleware. In 2007 we had a lot of big ideas, a few financial services customers and confidence that our rapidly improving product was going to be transformational, but based solely on business results we would have ranked near the bottom of that list. Today we have a proven product and a rapidly growing stable of blue chip reference customers in a variety of industries, and according to market analysts we have passed all of our peer competitors and now rank 3rd in the market (measured by annual revenues) behind only IBM and TIBCO.
Being recognized for our rapid growth is a good opportunity to pause, take a breath and appreciate all that we've accomplished. I'd sincerely like to thank all of our customers for being open to innovation with new projects, and reducing costs or complexity when incumbent product renewals were at issue. Your trust in us made this recognition possible, and keeping that trust is what will keep us on this list for years to come.
Tomorrow it will be business as usual, but today we celebrate.