We are very pleased to announce a new capability in the Solace product lineup. For many years now, we have dedicated our company to reshaping how messaging enables distributed computing for enterprise applications. Today, we announced that we're taking our technology beyond the boundaries of the corporate network and into the wild world of the internet.
We're not the first kids on the block to take on streaming real-time data to rich internet applications (RIAs), but we believe we've done it the best. And not by a little bit, but by a country mile. The problem of filtering and fanning out data to lots and lots of users is a tailor fit for the technology we've built over the past 8 years. We've already solved this problem for intranets and WANs, and by adding internet protocols, and some security and management to account for the internet part of the equation, we bring a new level of performance, simplicity and reliability never before seen in this market.
I'll be digging into all of these topics over the coming weeks, but by way of summary, here are some of the high points.
Performance
In web messaging, performance is a matrix of variables such as:
number of connections/users
subscriptions (per connection and total)
updates/messages (per second) to each connection
total number of updates/messages distributed across all users (per second)
total bytes distributed (per second)
amount of filtering handled by the streaming server
latency introduced in distribution
Across these criteria, Solace is setting new standards for performance. Our web messaging can fan out millions of messages and handle millions of subscriptions, with microseconds of latency, low jitter and throughput north of 10 Gbps. Don't take my word for it, download our performance white paper for all the gory details. The results are game changing – we've increased throughput by 3-4 times the highest benchmarked rates of competitors, and lowered latencies by more than 100 times.
Simplicity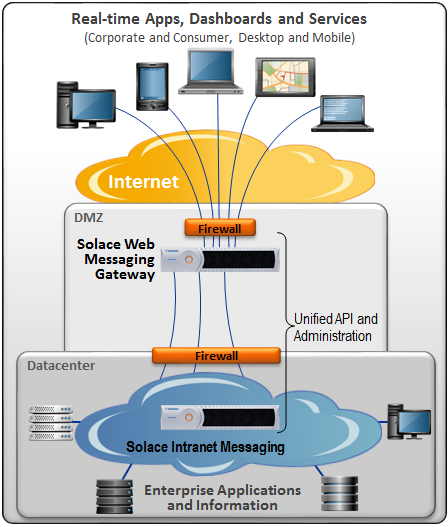 Solace has unified messaging inside and outside the enterprise, with automated integration and data routing between source systems and web clients. Virtually every other solution on the market requires complex bridges and gateways to shuttle messages between the internal messaging system and the web streaming system. Most of these gateways are not commercial products and must be built by the client as part of deployment. Solace can also consolidate much more traffic onto one appliance than a server with a software web distribution engine, meaning the datacenter footprint (and cost) is much reduced. Lastly, Solace's best-in-class messaging management and monitoring is also unified, making management of this system far easier than managing multiple bridged technologies.
Reliability
I talked about low latency earlier, but it's the predictable consistency of our distribution that makes the system fast and reliable. For markets like financial services and gaming, it's important to deliver fair and predictable performance to everyone, and hardware does that far better than software ever can. Plus our out-of-the-box fault tolerance means assuring high availability is turnkey simple.
As you can tell, we're very excited about this product. It's a brand new market opportunity, and it fully leverages all the features and assets that have made us leaders inside the firewall. Even though we're not first to this market, we would argue that we have arrived with the richest messaging and distribution feature set in the business. We just came at the market inside out. Instead of starting with web, and adding messaging to make life easier for developers, we built world-class messaging first and have added the web protocols.
If real-time RIA applications are on your to do list, we invite you to check it out and let us know what you think.