Like most private companies, we choose to keep our financial results … well, private. But as of today, we have a new nugget of information related to our business growth that has been shared with the world.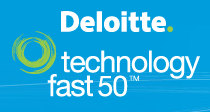 We were recently invited by Deloitte to participate in a process that determines the 50 fastest growing technology companies in Canada – the Deloitte Technology Fast 50. The ranking is based solely on the growth rate of the company over the last 5 years, provided a long list of criteria are met (to weed out the non-sustainable businesses).
Today, Deloitte announced the results, and we were very pleased to see that Solace is included in the 2010 Deloitte Technology Fast 50 as the 14th fastest growing company with a growth rate of 2296% over five years.
Now, I don't know about you, but when figures get into 4 digits of percentage growth, I kind of lose perspective on what the numbers mean. Sure, on one level, it means almost 23 times larger, that's easy enough to understand. But just for fun,  let's step out of the bookkeeping world for a few minutes and put the growth and time in some comparative perspective.
Since many readers here are from the financial markets, I'll start with the gold standard benchmark for growth, Warren Buffett. If you were a buy and hold investor, and you were sitting on a 2296% gain in Berkshire Hathaway stock, that means you bought your shares more than 21 years ago in April of 1989.
Using another examples, when I was born I weighed about 8 lbs. Today I weigh within a pound of having achieved 2296% growth as a human – about 183 lbs. But once again, it took a lot longer than 5 years. I first crested into the 180s when I was in my 30s.
A young redwood tree that is 12 feet tall will take more than 200 years to grow 2296% taller (to 275 feet) at full maturity. At the other extreme, a 1 foot tall bamboo shoot can grow 2296% (to 23 feet) in just a few weeks.
However you choose to make sense of it, 2296% is a pretty significant amount of growth. We want to thank Deloitte for coming up with a crafty way for private companies to show an audited growth metric while still keeping their financial results private and, most of all, we want to thank our customers and partners for increasingly placing more and more trust in us to deliver for their businesses. Ultimately, that's what revenue growth means, and we're proud to be associated with so many great companies.
Come to think of it, there is no doubt that many customer and partner dinners have contributed to me achieving that 2296% growth in weight over the years. I am hoping that particular growth correlation does not continue into the future!