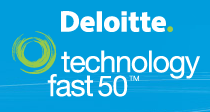 Deloitte released their new Fast50 rankings today, and we're excited to be on it for the second year in a row. Launched nearly 15 years ago, the program celebrates the achievements and evolution of the Canadian technology sector.
We're especially proud of a leadership award we were given, described by Deloitte's Mark Noonan in an Ottawa Business Journal article:
"Solace won a special leadership award in the category of hardware for demonstrating their ability to create a distinct competitive advantage in a high-growth market, which allows them to dominate their sector."
We're proud of our #25 spot on the list, and as Noonan further explained we would have cracked the top 10 if our fiscal year mapped to the calendar year. "If we look at their current year revenue model, they have achieved accelerated revenue in 2011. If we were to annualize that, Solace's growth rate would almost be 2, 600% percent, which would have been top 10, " he said.
And since real growth and results are what matter, we're OK with that.