Solace is proud to sponsor Apidays Dubai & Middle East 2023, which brings together industry leaders to explore the impact of Open Banking/Finance on Financial Services in the MENA region.
Join us at this year's event, with the theme "Open, Embedded and Inclusive: Future of Finance and Banking", which will highlight the latest technical advancements and success stories from the API landscape. With the transformation of Financial Services through Open and Embedded Banking/Finance, the region presents significant opportunities for innovation and growth for all stakeholders, as well as the adoption of world-class API tools and standards.
Workshop: Event API Products: Maximizing the Value of Your Event-Driven Architecture
February 22 at 11:10am
Alam Khan, Principal Technologist, Solace
Giri Venkatesan, Developer Advocate, Solace

Learn how to elevate asynchronous, event-centric interactions into event APIs to streamline business processes and enhance customer experiences. Featuring a demonstration of building and consuming an event API product using Solace PubSub+ and AsyncAPI.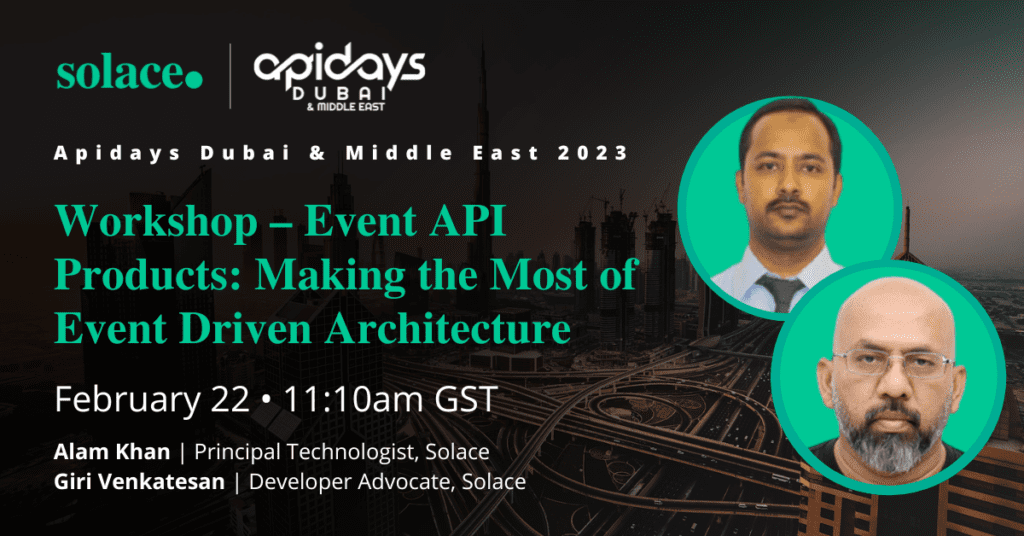 Unlock the Power of Digital Banking with EDA
February 22 at 3:50pm
Floyd Davis, VP Solution Engineering, APJ & ME, Solace
Discover the benefits of event-driven architecture (EDA) for success in today's financial markets through real-world examples of improved processes for real-time data, simplified systems, cost savings, and scalable personalized customer experiences and digital banking.