Apidays Singapore 2023 is a must-attend event for businesses and professionals looking to stay ahead of the game in South East Asia's rapidly evolving market.
As the region's economies continue to grow, businesses must be able to adapt to the changing landscape to achieve resilience and thrive in the face of economic pressures, supply chain disruptions, and the climate imperative.
Join us to explore "Resilience to adaptability through digitization" and discover how APIs and microservices, modular and event-driven architectures, multi-cloud/multi-platform integration, Applied AI and automation, and no-code/low-code tools can help you achieve your goals across all industries. We'll also delve into the importance of disciplined processes, including security, data engineering, developer experience, site reliability engineering, and platform engineering.
Don't miss this opportunity to gain insights into how APIs, EDA, and related technologies are transforming business to accelerate economic growth in Southeast Asia. See below for our speaking session details:
Event-Driven APIs; Why REST isn't Enough
Steve Chan, Senior Solution Engineer, Solace
In today's fast-changing world, companies need to be more aware, agile, and responsive to shifting customer expectations, competitive forces, and market conditions. Adopting event-driven architecture (EDA) can give businesses a competitive edge and help them thrive. Join this talk to explore the limitations of REST-based APIs, the benefits of adding asynchronous, event-driven APIs, and how a unified API Management approach covering both REST and event-driven APIs can enhance your business agility.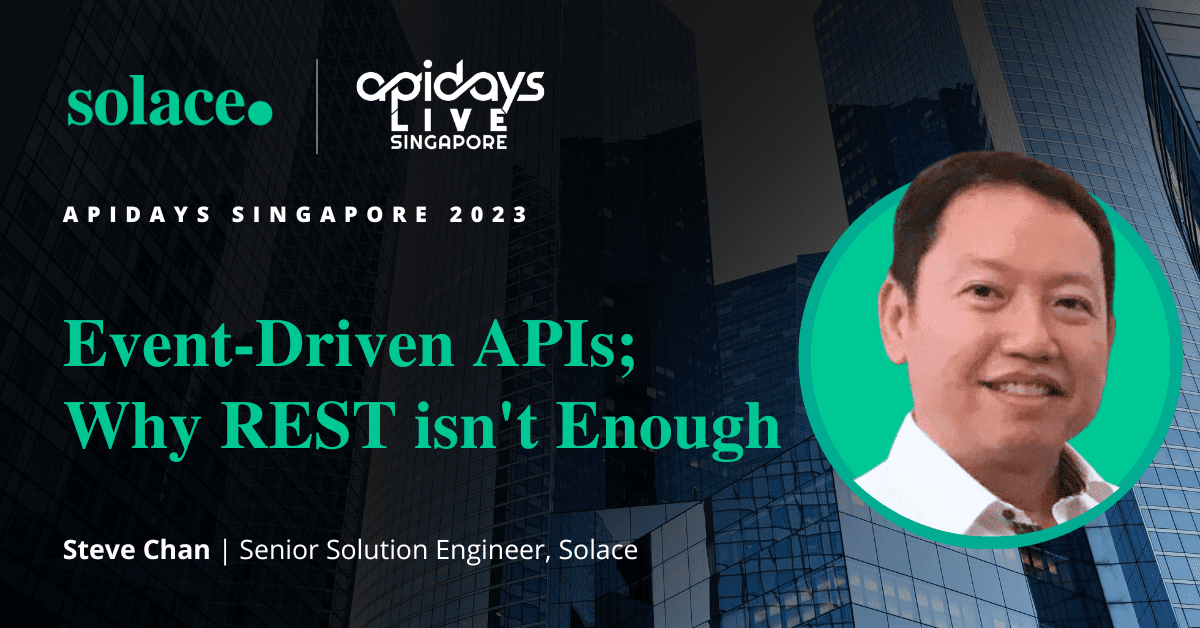 Event API Products: Making the Most of Event Driven Architecture
Aaron Lee, Developer Advocate, Solace
For the maximum value from EDA, events need to be exposed as event API products that can be accessed and acted upon by both internal and external stakeholders. In this workshop, you'll learn how to build, expose, and consume event API products using AsyncAPI and an EDA platform. Join us to gain a deeper understanding of the process.