Solace is a proud sponsor of Big Data & AI World Frankfurt happening on May 10-11 in Frankfurt.
Come to discover scalable solutions that anchor your business in a world of change. This event will bring together 10,000+ industry peers including innovators, technologists, and business leaders looking to shape the future and drive digital transformation. Meet with experts across various industries and benefit from the expertise of thought leaders and leading minds in digital transformation.
Make sure to swing by our booth (#M082) and learn about event-driven solutions for real-time data capabilities.
Event Mesh: A Better Way to Feed Near-Real-Time Models
Rainer Frohnhöfer, Sales Engineer, Solace
May 10 – 11:10am (Data Management & Integration Theatre)
The current industry standard involves utilizing machine learning models to analyze event data streams and make predictions in near-real time. However, existing technologies for managing and transporting these events were either originally created for other purposes, such as streaming analytics, or are too basic to handle the complexities of modern hybrid and multi-cloud environments. In order to simplify the process for both those responsible for operating and supplying these models, as well as developers and model builders, we will showcase the benefits of implementing an Event Mesh that can intelligently manage vast amounts of events across both on-premises and public cloud-based resources.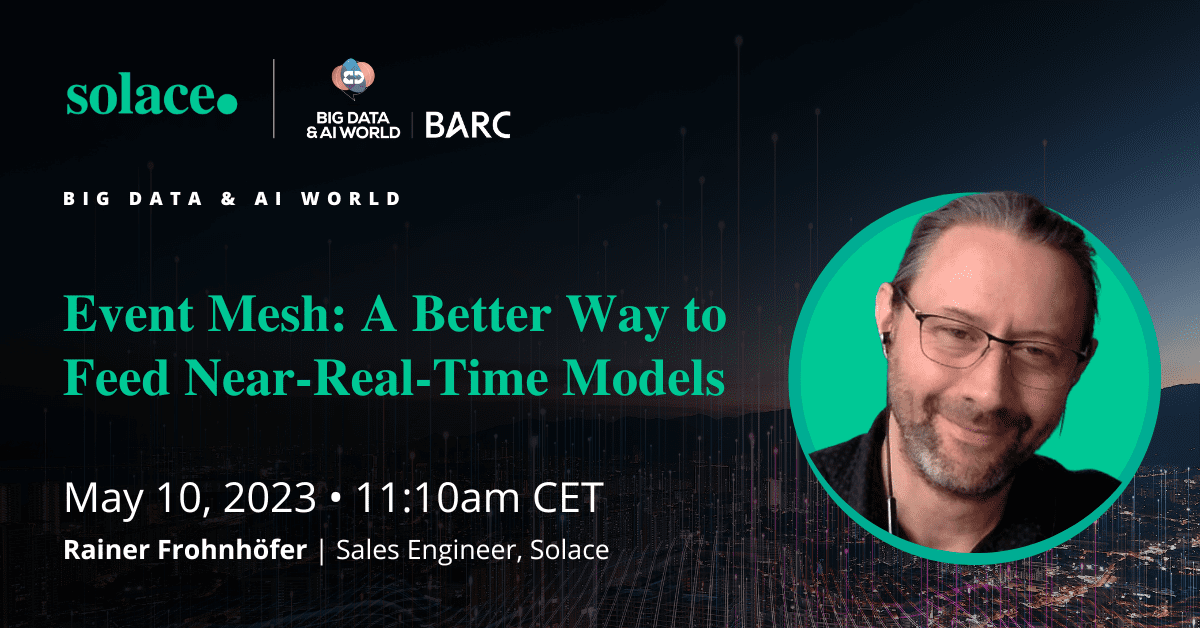 From Data Silos to Event Mesh: Democratize Real-Time Data Everywhere
Benjamin Gottstein, Sales Engineer, Solace
May 11 – 2:10pm (Data Strategy & Data Driven Business Theatre)
In this 25-minute talk, Benjamin will explore the power of a data mesh for improved decision-making and operational efficiency. He will discuss the challenges of opening data silos and demonstrate how to build a data mesh that democratically provides real-time access to data from various sources. Benjamin will showcase the Solace PubSub+ Platform, a powerful technology that can be used to integrate data seamlessly across multi and hybrid cloud environments. He will also present a real-world use case that illustrates how combining IT and OT data can generate new insights and drive business success. Attendees will leave with practical strategies for overcoming data access challenges and achieving better business outcomes.