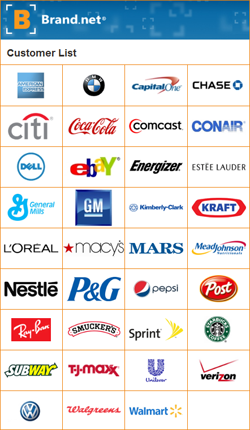 System Helps Global Brands Dynamically and Intelligently Allocate Web-Wide Display and Video Advertising
OTTAWA, January 17, 2012 – Solace Systems, the leading provider of hardware-based middleware, today announced that Brand.net, the digital media buying platform for online brand advertising, has selected Solace's Unified Messaging Platform as its JMS messaging provider. The top 100 U.S. advertising spenders employ Brand.net to plan, execute and optimize their web-wide branding campaigns. Brand.net allows them to target specific audience segments across hundreds of publishers and dozens of content channels, in both display and video, through direct to publisher purchases and using real-time bidding on all leading ad exchanges.
Solace message routers feature the low latency and high availability Brand.net needs to meet customer requirements, with the added benefit of being easy to deploy, operate and scale. Brand.net will also use Solace's platform as the foundation for its back-end reporting and billing systems.
"Our style of event-driven, data intensive advertising requires high availability, low latency and high throughput JMS messaging, " said Aram Compeau, vice president of engineering at Brand.net. "To us Solace Systems clearly provides the best combination of technology and service."
"We're very pleased to be working with Brand.net, a fast-growing company in the world of online advertising, " said Craig Betts, CEO at Solace Systems. "Online services are among the most demanding applications in the world with respect to low latency, high throughput and intolerance for disruption."
Brand.net's platform is live on Solace and is deployed in multiple data centers around the U.S.