Solace has a suite of self-paced learning paths and certifications that PubSub+ users and EDA enthusiasts can complete to bring their skills to the next level. I'm happy to announce that we have just released a brand new, FREE certification created specifically for developers: Solace Certified Developer Practitioner (Level 1)!
Earners of this certification will demonstrate the foundational understanding of event-driven architecture (EDA), PubSub+ Platform, and developing applications for PubSub+ Event Brokers. With hands-on activities, the certification will provide you with the knowledge to get started developing applications using either Solace PubSub+ API or open APIs/Protocols supported by Solace.
The Developer Certification Challenge
With the launch of this new certification, it felt like the perfect time to host a challenge and some giveaways! Complete the steps below to be entered in a LIVE raffle to win Amazon gift cards and a free learning subscription so you can push your skills even further!
How to Enter
Here's how you can qualify for the Developer Certification Challenge:
Take the Certification Exam by December 14th and score 80% or higher on your first attempt. Enroll for free.
Join the Solace Developer Community and reply to this thread with a screenshot of your certificate and score.
BONUS: You will get an extra raffle entry for sharing your certification badge on LinkedIn with the hashtag #ImSolaceCertified. Don't forget to tag Solace and include a link to your post in your response to the thread above.
Please also consider sharing the news from Solace about this challenge with your network on LinkedIn and Twitter by liking and sharing!
What You Can Win
Winners of the Developer Certification Challenge will be announced on December 15th, 2021. Prizes include:
1st Place: $200 Amazon Gift Card + Free Solace Academy Learning Subscription
2nd Place: $100 Amazon Gift Card + Free Solace Academy Learning Subscription
3rd Place: $50 Amazon Gift Card + Free Solace Academy Learning Subscription
Why Join the Solace Developer Community
The Solace Developer Community is a technical community for discussing Solace PubSub+ products – including PubSub+ Cloud, PubSub+ Event Broker, PubSub+ Event Portal – event-driven architecture, event-driven development, security, microservices, and more.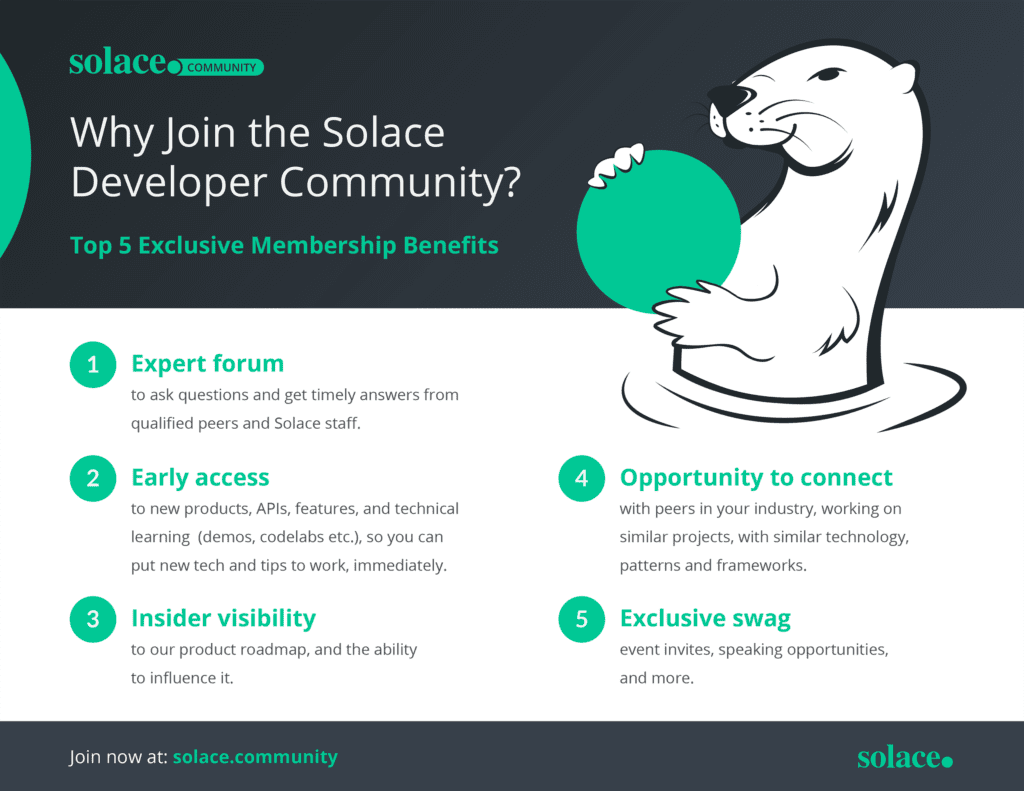 Good luck and happy eventing!