On March 7, 2019, over 80 Solace customers and partners came together for Solace Connect at the R One Space in Hong Kong to learn about the latest Solace news and product advances, and to hear fellow customers share their implementation of Solace technology.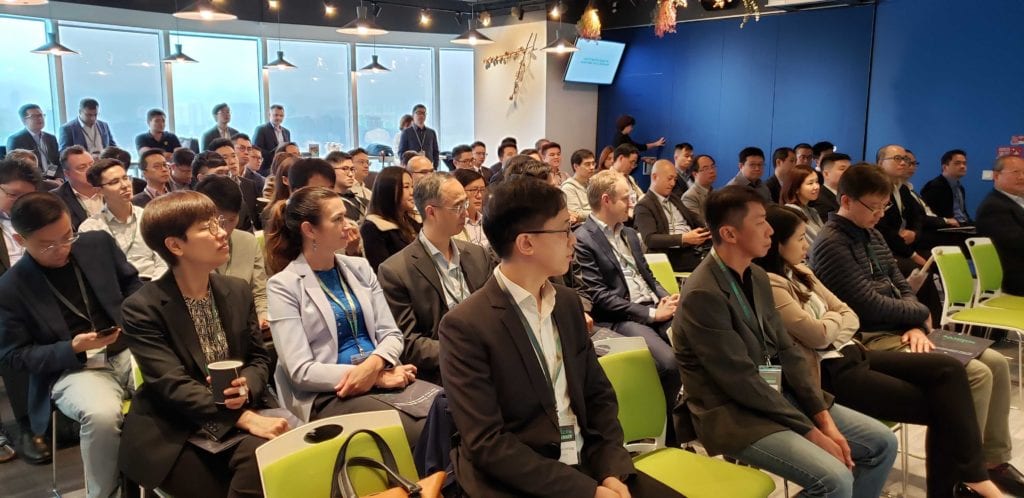 Attendees heard from several guest speakers, including from NETS and OOCL, two Solace customers. Peh Yew Hock, Senior Vice President & Head of Shared Services Technology at NETS, delivered the first session and explained how his company, the leading payments network in Singapore, deployed Solace to help transform how payments are made in Singapore.
Next, Carol Choi, Assistant General Manager at OOCL, shared the company's IoT story with the CargoSmart use case, in which they achieved "digital twin" operation and operational efficiency.
Our last speaker was Stephen Wong, Vice President, High Performance Messaging Lead, Institutional Clients Group Technology at Citi. He explained how using Solace helped Citi build better apps and architectures within their enterprise.
Finally, Sumeet Puri delivered a compelling presentation on our event mesh vision and its importance to enterprises. He also shared information on event-driven data flows and APIs, and how Solace can enable them through an event mesh to support application architectures. Here's the presentation:
Sumeet also shared with the crowd a few case studies in the digital insurance, digital QR code payments and IoT space.
We wrapped up the night by asking our attendees to participate in a fun demonstration of our API-centric capabilities. Participants played a simple connected dragon boat race in which each of them were divided into four teams, then clicked on a link to join the race. The dragon boat team with the fastest click won the race in real-time.
After the presentations and demo, a cocktail session gave attendees the opportunity to enjoy refreshments and discuss topics such as hybrid cloud, data movement, IoT implementation and digital transformation.
Thank you to everyone who joined in on the fun! We hope to see you again at our future events.