For a couple of years now, the press and industry analysts have been focused on the three megatrends that will shape the future of computing. You know the script – everything is either about big data, cloud computing or the Internet of Things.
Lately I've seen these three trends coming together to create interesting new use cases. For example, this Forbes article makes the case that IoT is the Killer App for Big Data. The author covers two in the title, and he hits the trifecta when he points out that most of that IoT data flows through the cloud on its way to the big data store.
That's three for three — the megatrends collapsed into one use case.
In our business, we see the same pattern emerging. We see all kinds of use cases tapping into the IoT at some point, everybody's moving some (or lots) of their infrastructure to some variation of the cloud, and data volumes are climbing as both a cause and effect of all this change.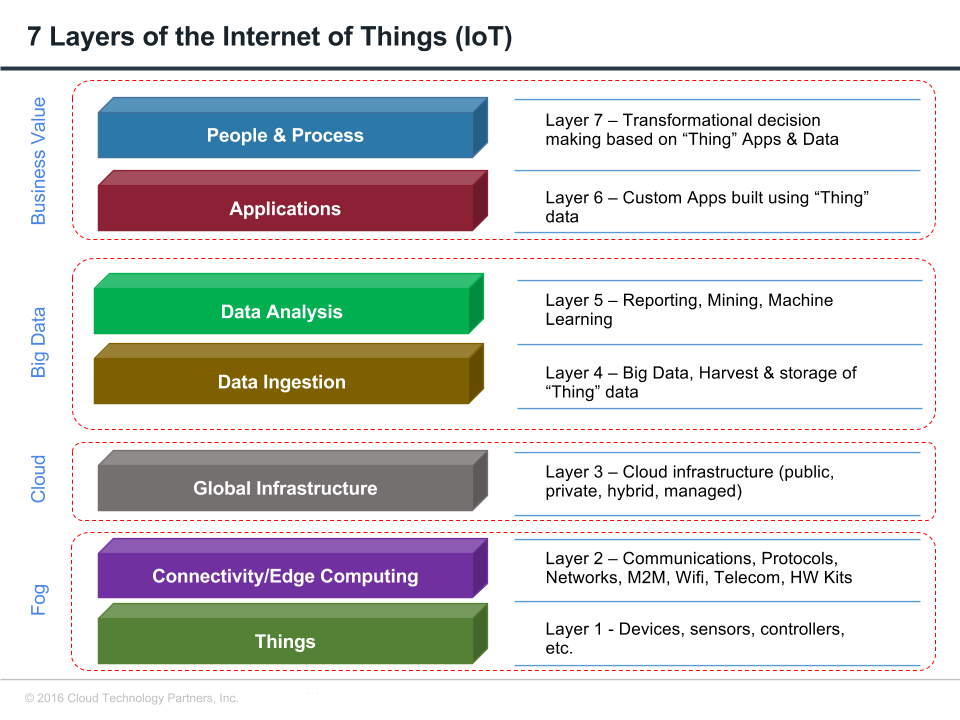 What's that look like from a technology point of view? The Forbes article includes this diagram from Cloud Technology Partners that I think does a pretty good job of breaking it down.
Solace is uniquely well suited to three of the seven layers:
Connectivity/Edge Computing: Our platform can simultaneously link hundreds of thousands of "things" via a variety of protocols to facilitate high-volume event-driven data aggregation or distribution.
Global Infrastructure: Our appliance and virtual message routers (2018 Editor's Note: the Solace Virtual Message Router is now referred to as Solace PubSub+) provide the architectural flexibility and high capacity to form the core of IaaS/PaaS strategies in private cloud, public cloud and hybrid cloud environments.
Data Ingestion: Solace is increasingly being used to collect high value information that is already flowing through the enterprise as events and inject it into big data stores. We can also help companies move toward what some people are calling "fast data, " i.e. the capture of streaming updates to big data applications.
No other technology can handle the scale requirements these three megatrends entail, and many of our customers are betting on Solace for data sharing across big data, cloud, and the Internet of Things. More and more, the three trends are becoming slices of some pretty exciting pies.