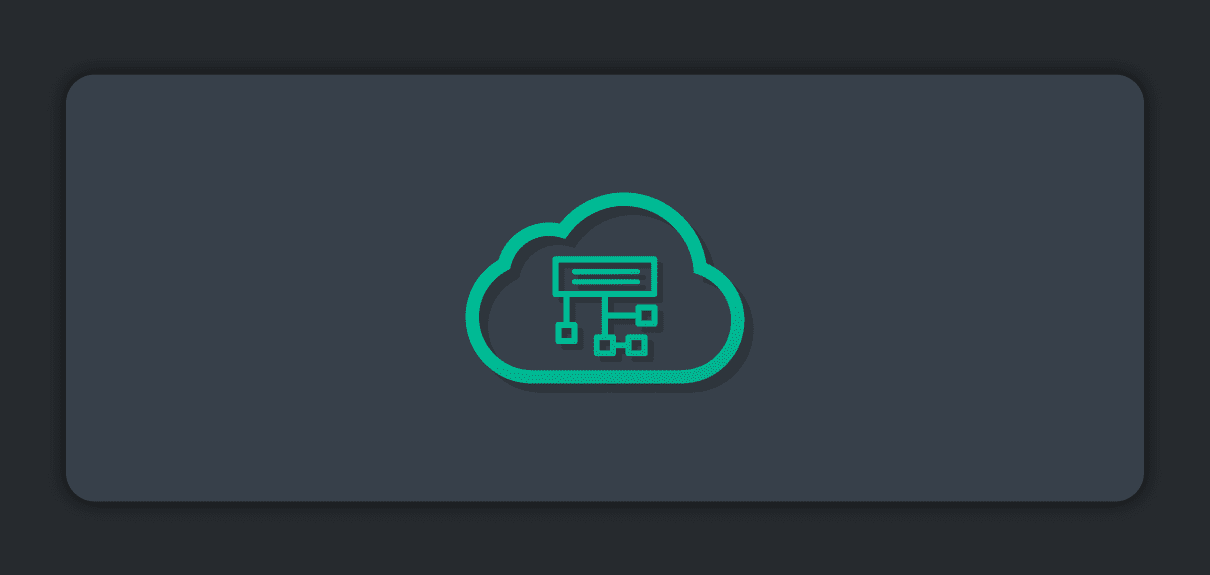 On April 22 2020, Gartner published a very detailed and insightful report on how to "event-enable" your enterprise application portfolio, such as your CRM, ERP, SCM and HCM applications from vendors like SAP, Oracle, Salesforce and Microsoft. The Gartner report is titled "Assessing Event-Driven Integrations for Enterprise Applications", authored by analysts Jeffery Skowron and Gary Olliffe. You can read this report by clicking the link but you must have a Gartner for Technical Professionals subscription to gain access.
Why event-enable your enterprise applications?
Gartner notes there are many different approaches to integrating enterprise apps with other applications and processes, including:
Point to point integration,
Integration platforms (such as iPaaS),
Request-response APIs,
Batch file processing, and
Event-driven communications.
So with so many options, why a particular focus on the event-driven pattern? In Gartner's words:
The event-driven integration approach is not the simplest to adopt, but it can provide a means to unite multiple disparate systems to promote technical flexibility. An event-driven approach can be used to solve complex flows that share data and state changes across multiple endpoints in a real-time manner."1
The event-driven approach differs from a data-centric integration approach because it allows for faster sharing of granular data to trigger an action in a consuming application."1
"The resulting architecture with event broker middleware also allows for additional applications to be added into the integration use case. You can add and remove consumers without any involvement from the source enterprise application, because the middleware is the endpoint for the consumer."1
The report provides an easy to understand depiction of how an event integration capability aligns to an enterprise application, beit a CRM, ERP, HCM, or SCM application.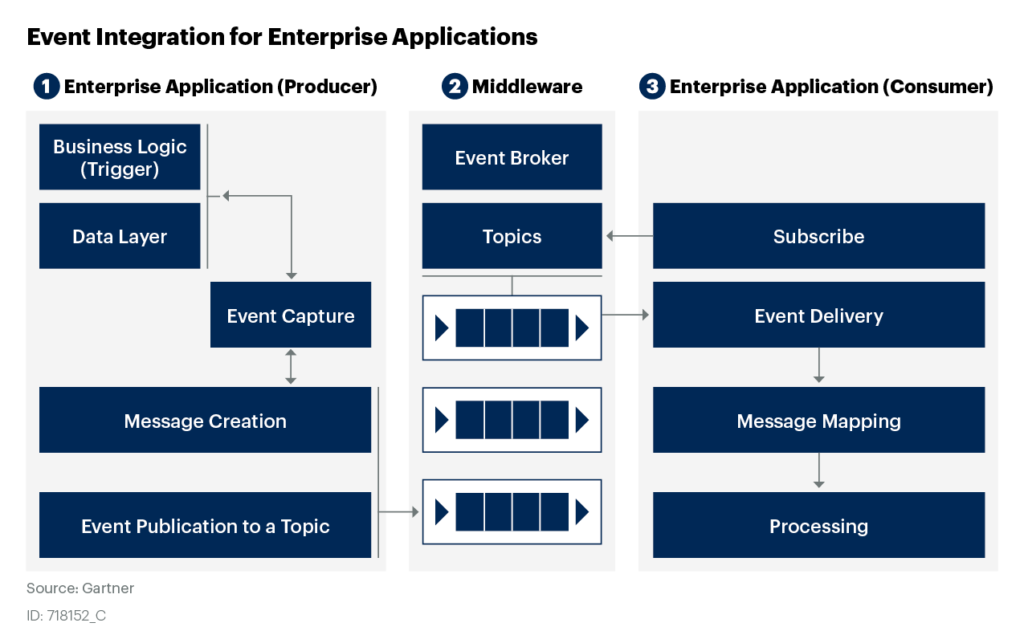 Source: Gartner "Assessing Event-Driven Integrations for Enterprise Applications" 22 Apr 2020, Jeffery Skowron, Gary Olliffe
Gartner explains that most enterprise application suites have some level of event-driven support already, although your mileage may vary in terms of level of capabilities and support for common standards. This is why it is so important to have a single, common approach (like Solace PubSub+) for event distribution across your enterprise – particularly if you plan to integrate enterprise application across clouds, and other distributed systems in an event-driven manner.
A Customer Data Synchronization Use Case
The report covers a few use case scenarios, but one in particular seems to be a common one among Solace customers these days – Customer Data Synchronization.
Customer Data Synchronization
Organizations that run multiple CRM enterprise applications face the challenge of synchronizing customer data across these applications (and other enterprise applications). You can adopt a master data management (MDM)-based approach for aggregating and centralizing customer data. However, an MDM approach can be difficult to implement and ultimately maintain over time, especially as new enterprise applications are added to your architecture. Event-driven integration provides the option of creating a more flexible integration architecture for synchronizing customer data. This architecture is not dependent on a centralized MDM data source, with its complex data aggregation and normalization logic.1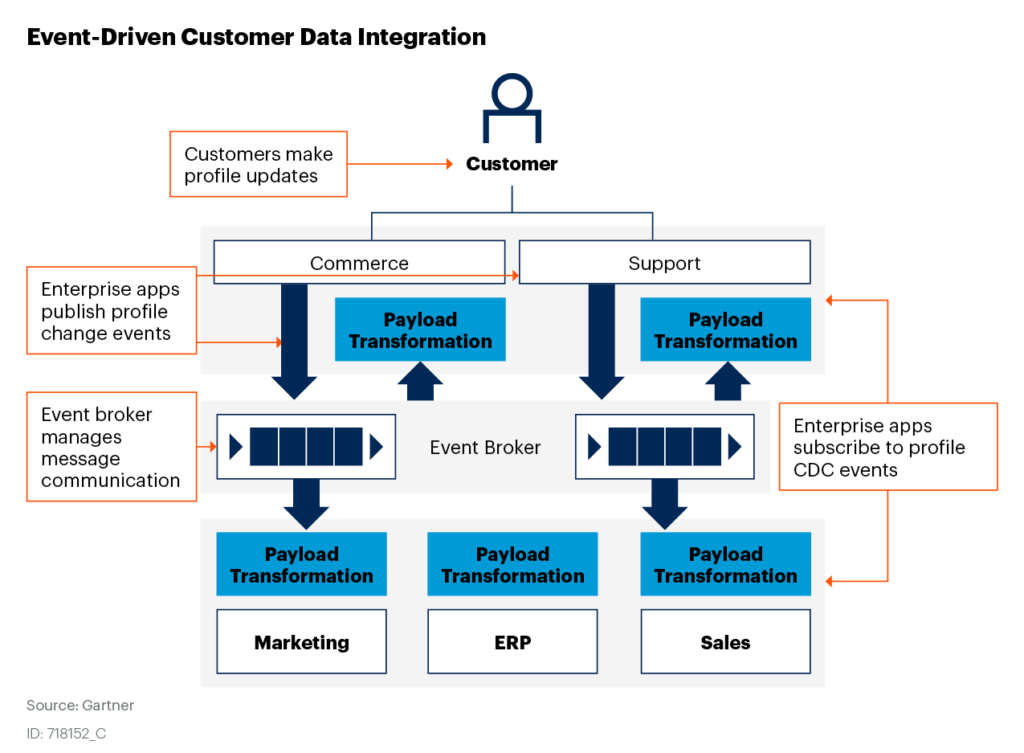 Source: Gartner "Assessing Event-Driven Integrations for Enterprise Applications" 22 Apr 2020, Jeffery Skowron, Gary Olliffe
Event-Driven Integration May Not Be Suitable for Every Scenario, Gartner Says
While there are many situations where an event-driven integration approach is suitable, it is important to note that Gartner does not advise every integration scenario be an event-driven one. They offer specific guidance to avoid certain situations not ideally suited for an event-driven approach.
Event-driven architecture will not work for all integration use cases. In an event-driven flow, the integration producer does not wait for a response once its event has been published/emitted. The eventual-consistency nature of event-driven integration means that you will not be able to support immediate synchronous responses to the publishing of an event message from a producer. Hence, use cases where the source (producing) systems require synchronous confirmation of state changes or command execution are not ideal for the event-driven approach."1
Gartner also notes that some form of data mapping may still be required for consuming applications to process events and data. This can usually be achieved with integration middleware (such as with Dell Boomi iPaaS), or add-on connectors such as ASAPIO Cloud Integrator for SAP.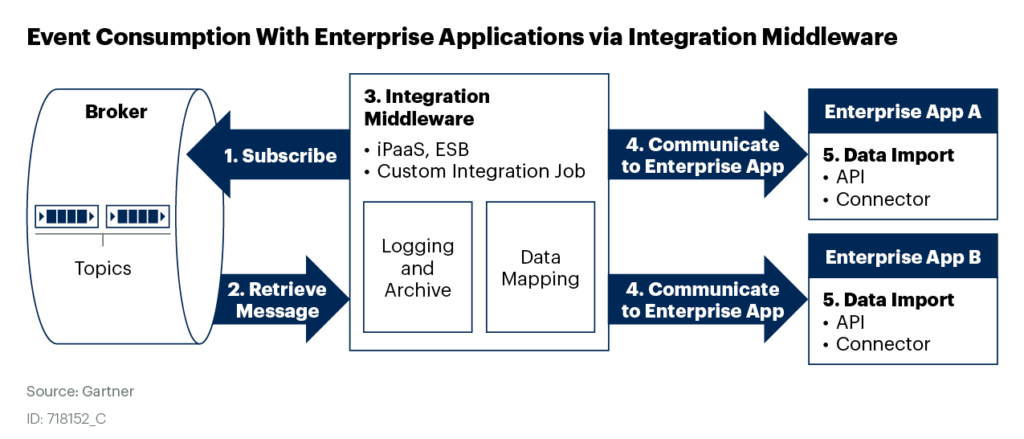 Source: Gartner "Assessing Event-Driven Integrations for Enterprise Applications" 22 Apr 2020, Jeffery Skowron, Gary Olliffe
Lastly, there is a strong recommendation in this report to maintain visibility of the event-brokering system for forensic troubleshooting, as well as having a real-time visualization of the flow of event messages across your enterprise applications as Gartner notes:
Event monitoring is a capability you should leverage from your enterprise application vendor, your event broker and your integration middleware components."1
Favor event brokers with event-catalog-type capabilities that track and expose the different types of events that flow through their topics. (Solace PubSub+ Event Portal is one example.) An event catalog will act as a centralized source for your integration engineers to identify the types of messages, and data, that are available for consumption from your event architecture."1
This type of operational monitoring can be accomplished with PubSub+ Monitor, and event-catalog capabilities can be found in PubSub+ Event Portal, among other useful features such as a complete event-driven design and runtime event discovery.
Summary: Gartner Report is a Great Resource for Event-Driven Integration Advice
In summary, this report is a great resource for organizations that seek to event-enable their enterprise applications. Gartner recommends all organizations start with cross-team collaboration to identify the initial business problem and use case to address, and then…
Once you have identified a use case that fits an event-driven flow for your enterprise applications, the next consideration points are:

Assess application-vendor-specific event capabilities
Identify event broker options and capabilities
Adopt operational processes that provide real-time monitoring
Follow best practices for data security and privacy management"1
If you are a Gartner client, I highly recommend you read this report for more detail and guidance on event-driven integration. Note, you must be a client of Gartner with access to Gartner for Technical Professionals to gain access to this research.
Feel free to reach out if you have any questions!
1 Gartner "Assessing Event-Driven Integrations for Enterprise Applications" 22 Apr 2020, Jeffery Skowron, Gary Olliffe
The post Gartner on Event-Driven Integration: How to Event-Enable your Enterprise Applications appeared first on Solace.