The big news of Day 3 was that Google is integrating Cloud Build with GitHub so that it's easier to add continuous integration processes to GitHub code repositories.
Note: Here is a recap of Day 1 and Day 2
Let's dive into two particularly interesting sessions.
1. Storing & Securing Your Data: Rolling Out Storage & Disaster Recovery
Google Cloud's Head of Higher Education, Steven Butschi opened the session and handed it off to Arun, the Lead Cloud Infrastructure Engineer at Stanford University, who talked about earthquake-prone San Francisco and the vulnerability of all data in physical centers.
Get this: up until two years ago, 200TB of critical research data at Stanford's Graduate School of Business was sitting on-premise and wasn't backed up.
Arun sought to change this and, in collaboration with Google and data management software company Komprise, was able to begin the school's cloud migration efforts.
For Steven Nguyen, IT Service Owner for Collaboration and Web at the University of Minnesota, the change was perhaps even more dramatic. His team took 200 million files, 2.3 petabytes of data, into the cloud in pursuit of an agile HA infrastructure.
But what about the cost savings?
Well, Steven had Gartner come in to conduct an analysis: the university would save an estimated 15 million dollars by moving data from on-prem to the cloud
With that savings, the university built out Collaborative Teaching and Learning Classrooms. Like Arun, Steven's team had several incidents at their data center, including a near flood and a blown transformer that started a fire (a squirrel caused it).
The overarching theme of the session was that there's a deep fear of maintaining physical "things," and a deep trust that letting Google take care of your things is a far safer and cheaper way to go.
This theme was reiterated by Joshua Humphrey, Team Lead of Enterprise Computing at Georgia State University, who brought up Hurricane Irma in 2017.
His team started using Google Nearline for archival storage, and they've seen an average annual savings of 44%. Additionally, they've been able to reallocate ten members of their IT team to other areas in the university where their skills will be more useful. Josh put it like this:
"DR was our first step into the cloud."
Artist Andrew Federman of Google For Education created this graphic during the session: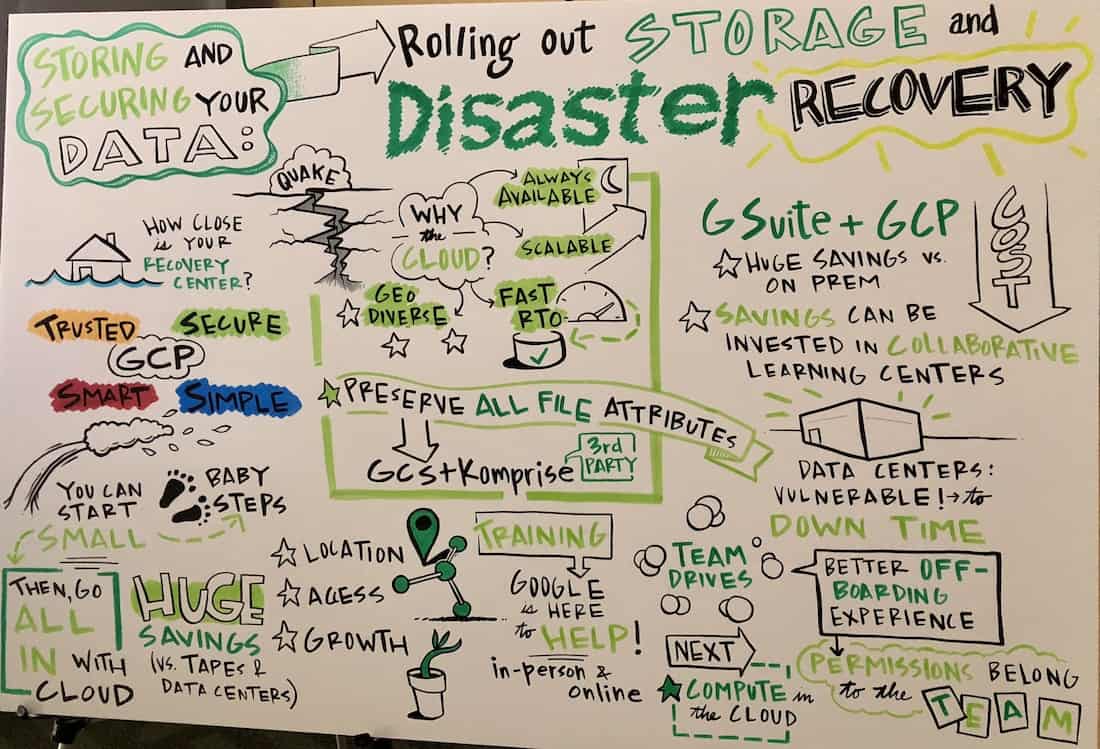 2. Migrating Apps to Cloud: Systematic or Random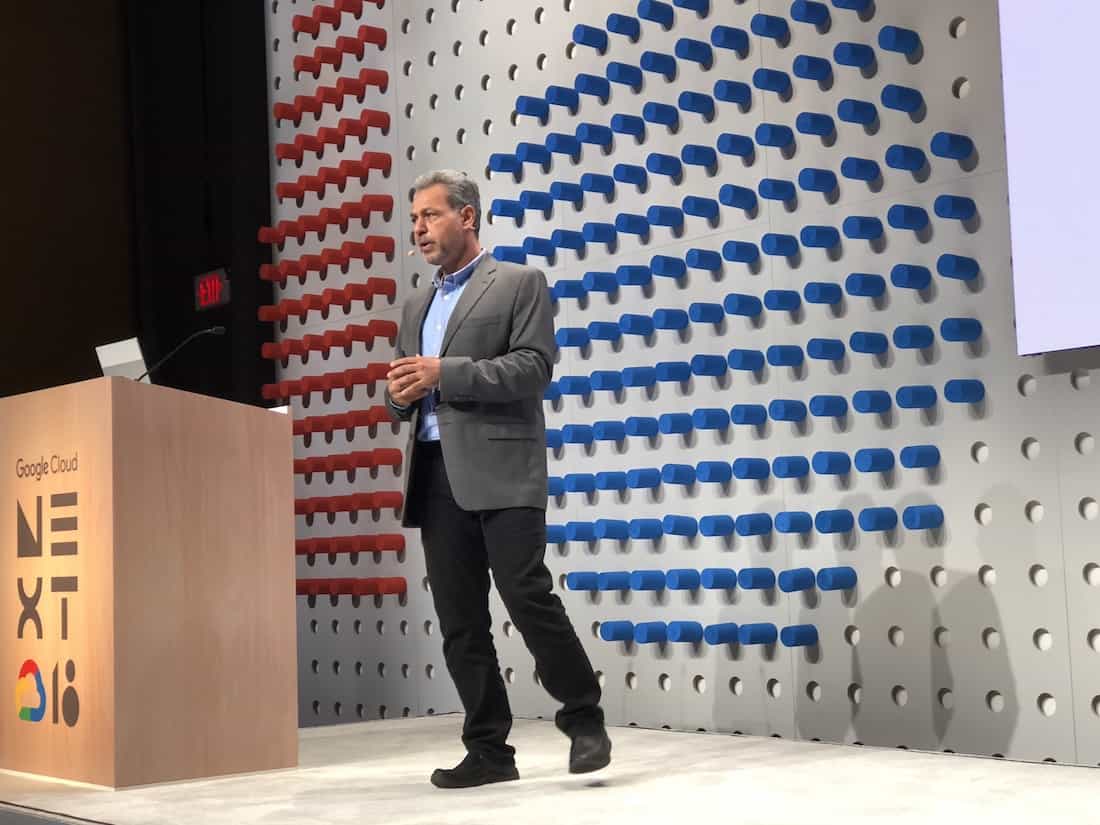 Mamoun Hirzalla (above) is the Principal Cloud Architect at Accenture. Mamoun and his colleague Greg Buxkemper broke down the Accenture philosophy and strategy for migrating to Google Cloud Platform.
First, the consideration phase. Is this the right move? Both Mamoun and Greg emphasized the importance of asking your team even the most fundamental questions to ensure everybody is aligned.
They also suggested taking note of where "migration greed" is evident. Organizations often want to make massive jumps into the cloud, and this tends to be where problems arise.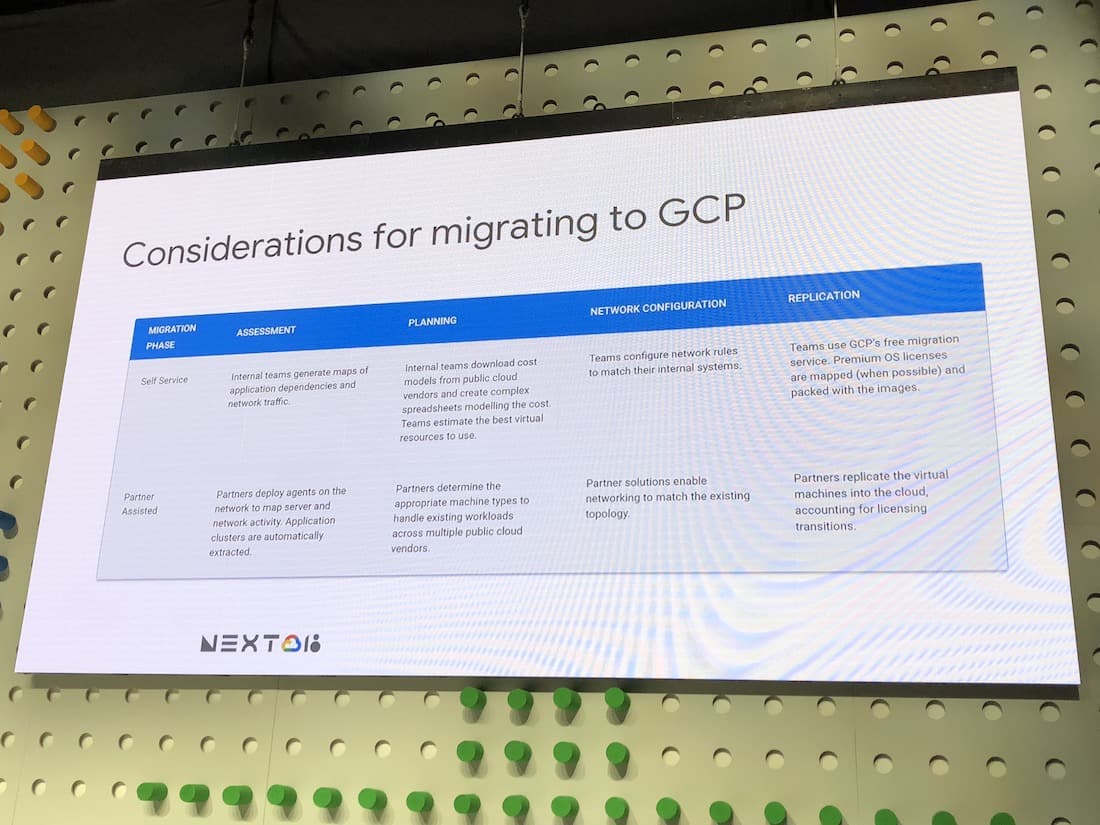 Once your team establishes alignment on why and on what role partners may play, it's important to assess the entire ecosystem of what's offered in Google Cloud Platform so there's a full understanding of the potential migration patterns.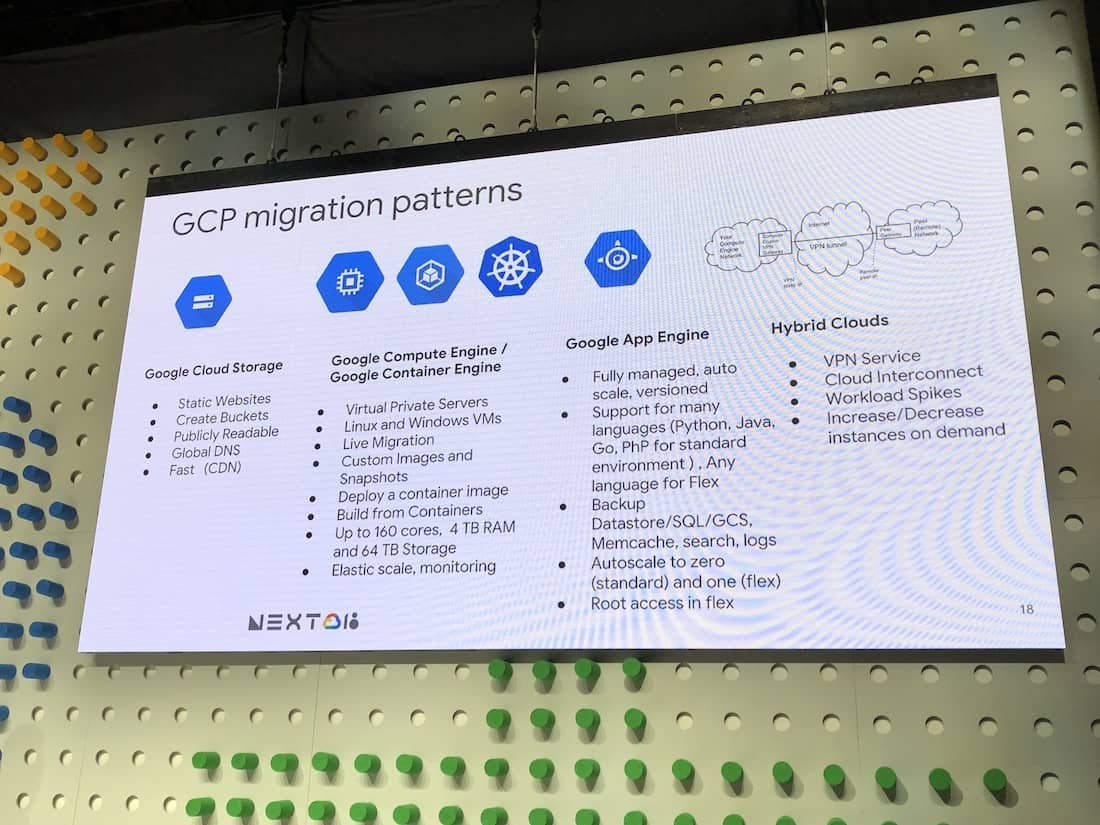 That's a wrap from Google Cloud Next 2018! With over 23,000 attendees, this was the largest Google event ever. Google Cloud Next 2019 will take place in April.
On our end at Solace, August 11th is the next exciting date. That's when Google Cloud Platform will be selectable as a deployment option for Solace PubSub+ Cloud. We look forward to sharing a few incredible use cases next year.
***
Here's a video with over four hours of footage from Day 3 at Google Cloud Next 2018: